Richard Norris is no longer camera shy.
The 39-year-old, who'd been severely disfigured by an accidental gunshot wound to the face in 1997, was given a renewed sense of hope in 2012: A team of physicians led by Baltimore's Dr. Eduardo Rodriguez operated on Norris to give him an entirely new face. The monumental procedure was what Dr. Rodriguez called the "most extensive of all face transplants performed to date" in a video by the Telegraph.
Now, one 36-hour surgery and two years later, Norris has gone from hiding away in his parents' home to being featured in the August issue of GQ magazine, on newsstands now.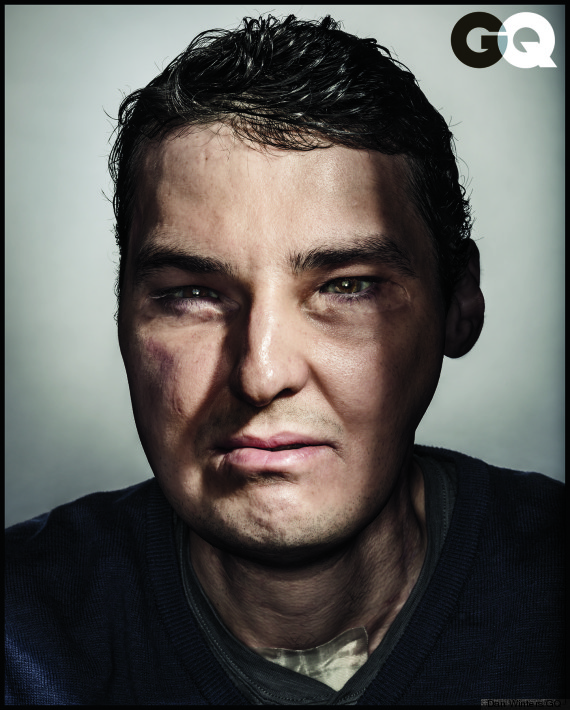 Photo: Dan Winters/GQ
Norris sat down with the men's lifestyle publication to recap, step-by-step, the roller coaster ride of his life, from the traumatic accident at his home 17 years ago to gracing the pages of a magazine that typically features fashionable Hollywood icons.
Despite the horrors of Norris' past, the Virginia man -- who said he's "rated in the top 50 miracles" in Japan -- is unsure if he'd erase the incident that left his parents covering the mirrors in their home so Norris wouldn't have to see his reflection.
"Those 10 years of hell I lived through, it has given me such a wealth of knowledge," Norris told The Associated Press last year. "It's unreal. It has put some of the best people in my life." Norris' skin is inspected by Dr. Rodriguez after his face transplant surgery. (AP Photo/Patrick Semansky)
Since the surgery more than two years ago, Norris has transformed considerably in more ways than one. Physically, he is learning how to eat and speak again as his face continues to regain feeling. Psychologically, he now sees himself in the mirror again, has maintained his sense of humor and credits his faith for getting him through an experience like no other.
He also now has a girlfriend and is enrolled in online college courses, according to GQ.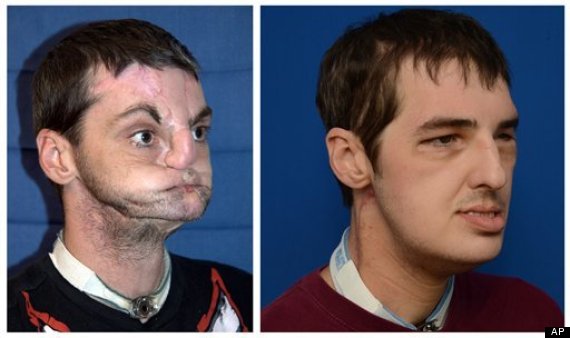 Norris before his face transplant surgery (left) and 114 days post-surgery (right). (AP Photo/University of Maryland Medical Center)
While the surgery has dramatically improved the quality of Norris' life, his medical status will never be back to where it was before the accident. Norris takes multiple medications daily to stop his immune system from attacking the new face tissue, which his body is hardwired to reject. Any day, his immune system could begin rejecting the transplant.
But even with the challenges ahead, Norris said simple, everyday encounters with strangers make the surgery well worth it.
"There's no one paying attention," he told the AP of the staring and ridicule he'd previously received. "Unless they know me personally, they don't know I am a face transplant patient. That right there is the goal we had."
BEFORE YOU GO
PHOTO GALLERY
Richard Norris, Post-Face Transplant