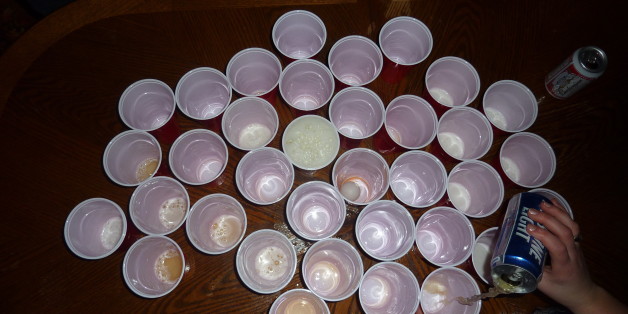 The University of Arizona has a reputation as a party school. It may not be at the top of the list these days, like Arizona State University is, but there's little question they like to get rowdy.
But what does that mean for students getting busted around campus for partying?
To examine this, the Arizona Daily Wildcat, UA's student newspaper, was gracious enough to share the entries from their "Police Beat" for the 2013-14 academic year. We previously did this with Dartmouth College and took a dive into arrests at the University of Iowa, the reigning No. 1 party school.
The result is a year's worth of entries, laid out to show how often students get caught.
Some portions are highlighted in bold as particularly noteworthy, unusual, or because they show the danger of getting too intoxicated. Hopefully this will just remind you to be safe if you go out drinking this school year.
We also began to notice there are quite a few stoners at UA. Out of a total of 156 incidents, we counted 56 weed-related busts -- or about one-third.
Read the whole list and head to the Daily Wildcat's website or social media accounts to keep up with everything else happening at UA. The campus blotter was too long to put into the entry, so we've put it in a 73 page Scridb document below.
--
University of Arizona Campus Blotter August 2013-May 2014
University of Arizona - Campus Blotter by Tyler Kingkade
Here are a few interesting entries to get you started:
August 27
On Aug. 22 at approximately 3:40 a.m., a UA student was diverted to the Dean of Students for a Minor in Bodily Possession of Alcohol, after a UAPD officer noticed him sleeping in an enclosed trash area on campus.
The officer was unable to verbally wake the man and had to shake him to wake him up. The man smelled strongly of alcohol and struggled to provide his name and identification. When the student stood up, the officer noticed he was swaying and had to lean against the wall for support. His eyes were also watery and bloodshot. The officer read the student his Miranda rights and asked him if he had been drinking. The student said yes and added that he had been drinking vodka.
He also stated that he had been drinking at a residence hall with friends, but he refused to give any names or who provided the alcohol. He said after drinking he needed to "walk it off," but had become lost and sat down to get his bearings. The officer diverted him to the Dean of Students and took him back to his dorm.
August 29
A UA student was cited and released for possession of marijuana on Aug. 26, after he drove by a University of Arizona Police Department officer in the Main Gate Parking Garage at approximately 10:25 a.m. The officer smelled a strong odor of marijuana coming from the rolled down driver's side window when the car passed him.
The officer followed the vehicle on bike until it parked, then told the driver why he had stopped him and asked for identification. The officer didn't find anything when he searched the student's vehicle, but when he searched the student, he felt what seemed to be a bag of some kind near the groin area. The officer asked the student what he had concealed in his shorts and the student said, "It's the marijuana."
The officer then told the student that he really did not want to unzip his shorts to retrieve it, so the student unzipped his shorts and removed an 8" by 8" plastic Ziploc bag filled with a substance he said was marijuana.
When questioned, the student told the officer that he had had the marijuana for about a week, and that he had paid $600 for it. He would not say where he bought it or from whom, only that he had paid $600 because "it was some good shit."
He also told the officer that he usually smokes at home, though he sometimes smokes before working out at the Student Recreation Center. The student was cited and released and referred to the dean of students. The marijuana, which weighed approximately 59.9 grams, was placed into evidence.
September 11
A UA student was transported to the University of Arizona Medical Center by ambulance for extreme intoxication on Saturday at approximately 2:15 a.m.
An officer went to a residence hall at approximately 1:54 a.m. in response to a call for medical assistance. When the officer arrived, a woman was lying on the floor in a dorm room, being evaluated by Student Emergency Medical Services.
The woman was uncooperative and was not answering SEMS's questions. She smelled strongly of alcohol, and it looked like she had urinated in the room. The room's resident identified the woman and said she believed she lived on the third floor of a different residence hall.
The resident then told the officer that the woman on the floor had started drinking at 2 p.m. on Friday and continued drinking until midnight. They had attended a party together at a house north of campus, where the woman had had mixed drinks and had possibly taken shots as well. She had to be carried back up to the dorm room, the resident added.
Tucson Fire Department then arrived to evaluate the woman, who continued to be uncooperative and at one point told the paramedic to "fuck off," giving him the middle finger.
When another member of TFD asked her what her date of birth was, she responded, "Birth control."
TFD said that the woman was not medically cleared to stay on campus and had an ambulance transport her to UAMC for treatment.
At approximately 5:45 a.m., the officer followed up with the girl in her hospital room, where she was arrested, cited and released for minor in possession of liquor in body. She was also issued a code of conduct violation through the Dean of Students office.
September 30
Two UA students were cited and released for minor in possession on Sept. 21 at 1:04 a.m. Two UAPD officers were on patrol near a residence hall when they spotted two students, a man and a woman, leaving a cab. The students were holding each other tightly and leaning against one another as they walked to their dorm.
Neither of the students could walk straight. As they tried to walk over the curb, they tripped and almost fell down.
UAPD officers approached the students to question them separately. The man said he had just left a house on Greek Row but couldn't remember which one. He said he drank a lot of jungle juice.
While he was speaking, the man started vomiting. After he finished, he said he felt better. When questioned by an officer, the woman said she had a lot of money and was wondering how much the arrest would cost. She then said she was 92 years old but corrected her age to 19, both of which were incorrect.
The Tucson Fire Department was called because of the high level of intoxication of the woman. She was told she was getting a minor in possession but didn't understand so the officers repeated it to her six times. After the woman was released by the TFD, she was taken to her room. TFD also took the man up to his room where his roommate promised to take care of him. Both students received code of conduct violations, which were sent to the Dean of Students office.
October 2
A UA student was arrested and booked by University of Arizona Police Department officers on Sept. 21 at 12:05 a.m. for minor in bodily possession of alcohol in a residence hall.
UAPD officers went to the dorm to speak to a drunken student who had pushed two RAs while trying to get back to his room, after he was seen drunk at a social event in the men's wing of the dorm. The event was shut down after RAs found out that alcohol was being served.
The student could barely walk and refused to go back to his room until he was told he was going to get written up. Ten minutes later, RAs went to the student's room and found five men drinking jungle juice. When the RAs accused the student of drinking jungle juice, he got angry and told the RAs to call the police.
When officers arrived, an RA took them to the student's room. The student opened the door but stood in the doorway with the door partially closed behind him. He said that he hadn't touched any women that night, but may have touched some men "in a friendly way." He also denied that he had told anyone to call the police.
The student smelled strongly of alcohol and had red, bloodshot eyes. He refused to take a preliminary breath test, then tried to shut the door on police officers, saying that he no longer wanted to speak to them and was ready to go back into his room.
As he tried to shut the door, an officer grabbed the student's arm and took him into the hallway. As the student could not stand up straight, the officer instructed him to sit by the wall, but the student refused. The officer repeated his instructions and the student again refused.
As the officers continued speaking to him, the student began showing mood swings. He was joking and lighthearted one moment, then uncooperative and angry the next. At one point, he tried to convince an officer to punch him, saying, "I can sue the shit out of you."
At that point, the student was handcuffed, arrested and booked into Pima County Jail.
***
A UA student was taken from a UA residence hall to the University of Arizona Medical Center for extreme intoxication on Sept 21 at 2:31 a.m. At 2:17 a.m., a UAPD officer responded to a call from the students' roommate, who was worried about how drunk the student was. The Tucson Fire Department responded as well.
The student smelled strongly of alcohol, had bloodshot eyes and there was vomit next to his bed. As a TFD official looked through the student's wallet for a valid I.D., a fake I.D. fell out. When the student was asked where he was really from, he replied, "Alcohol."
TFD decided the student was not OK so stay in his room for the night and took him to UAMC, where he was monitored overnight. The student was cited and released for minor in bodily possession of alcohol and possession of a fictitious out-of-state drivers license. A code of conduct violation was sent to the Dean of Students office.
January 29
Two UA students were arrested and released for underage drinking last Sunday. While patrolling First Street and Vine Avenue, an officer noticed two women in an odd situation: one was lying with half of her body on the sidewalk and half in a bush, and the other woman was standing over her, trying to get her out of the bush.
When the officer pulled over, the women began to walk away. The officer asked them to stop after he noticed that the woman who had been in the bush could barely walk, and asked if they needed medical attention. They both replied no and said they were just trying to get home.
When the officer asked the woman why she had been lying in the bushes, she claimed she had fallen because she was tired from walking.
While talking to the women, the officer could smell alcohol on both of their breaths and saw they both had bloodshot eyes. He asked them where they were coming from, and they replied, "A house on Greek Row."
"The frat boys kicked us out," one of them said.
They would not specify which house they were drinking at, and kept asking the officer to give them a warning so they wouldn't get in trouble. Both girls were arrested on charges of underage drinking and were released at the scene. They were diverted to the Dean of Students Office.