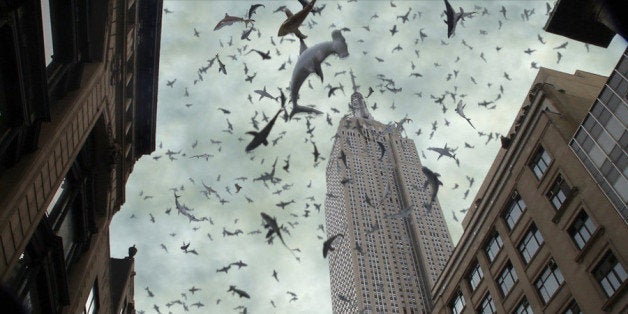 Some people might wonder how anything could possibly be crazier than the first "Sharknado." Well, it can.
"Sharknado 2: The Second One," (a subtitle to help you remember that this is indeed a sequel in case you missed that number "2") unsurprisingly got even more insane than the first. Now set in Manhattan, and thus allowing for a slew of media and celeb cameos, the sequel features even more chainsaw action, Tara Reid displaying her finest acting with the same facial expression and lots of bitten heads. Here are the craziest moments:
1. Of course, a shark gets sliced by a chainsaw again.
2. Vivica A. Fox channels her inner Vernita Green and chops up some shark.
3. Kelly Osbourne's purple-haired head gets eaten.
4. Perez Hilton complains and then a shark shuts him up.
5. Al Roker and Matt Lauer tag team a shark (with an umbrella!).
6. Ian Ziering's Fin plays frogger across a river of sharks, because what's a better survival tip than a video game?
7. Flaming sharks fall from the sky like any usual NYC afternoon.
8. Sharks ruin a Mets game and one angry former coach lets out his rage with a bat.
9. Lady Liberty's head gets detached and starts killing people in the streets.
10. Michael Strahan of "Live! With Kelly & Michael" gets killed, but Kelly shows a hammerhead who's boss.
11. Fin rides a shark like any good ol' cowboy would.
12. Fin somehow gets the ability to fly and slices through the insides of multiple sharks this time.
13. In the end, the Empire State Building comes quite in handy to save the day.