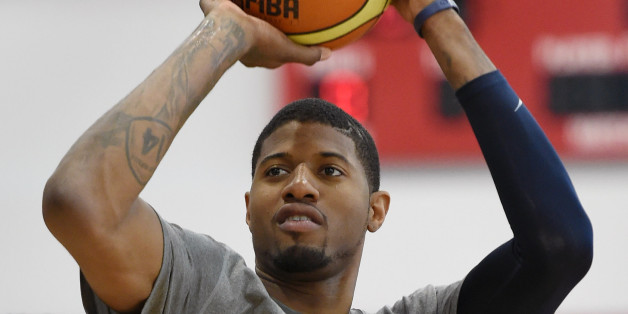 WARNING: The following contains graphic images.
Paul George of the Indiana Pacers suffered a horrific injury during the Team USA Scrimmage on Friday night in Las Vegas.
After fouling James Harden early in the fourth quarter, George came down awkwardly and his right lower leg snapped in a scene shown on live television.
Here's a clip of the scene... but again, this is difficult to watch:
All prayer to Paul George🙏 https://t.co/jqYYEUQ8tW

— Everything Shoes (@Amazing_Kicks) August 2, 2014
George was taken off the court on a stretcher:
Prayers go out to Paul George and his family as he has had a serious leg injury. Stay strong! pic.twitter.com/V60hMDhqvw

— Basketball Gurus (@BBall_Gurus) August 2, 2014
Roughly two hours after the injury, George -- or someone writing on his behalf -- sent out the following tweet:
Thanks everybody for the love and support.. I'll be ok and be back better than ever!!! Love y'all!! #YoungTrece

— Paul George (@Paul_George24) August 2, 2014
The game stopped for approximately 10 minutes, and then coach Mike Krzyzewski addressed the crowd, saying the game would not be completed.
"I want to thank the crowd here for understanding what was most important," he said, according to Fox Sports.
George was expected to make the roster of the team that will compete in the World Cup of Basketball, which starts on Aug. 30 in Spain.
"This is a tough blow, not only for USA basketball but for the Indiana Pacers," USA Basketball chairman Jerry Colangelo said, according to ESPN. "And so as an organization we're just going to let a little time go by here before we address rosters... it seems so unimportant in scheme of things. When you have something like this, it puts things in perspective."
After the game, the Pacers sent out a statement from Larry Bird, the team's president of basketball operations, via Twitter:
Statement from Larry Bird about Paul George: pic.twitter.com/xIRjSqxuwJ

— Indiana Pacers (@Pacers) August 2, 2014
NBA Commissioner Adam Silver also released a statement:
Commissioner Adam Silver released a statement on Paul George's injury: pic.twitter.com/Zh0LByFmhm

— NBA on ESPN (@ESPNNBA) August 2, 2014
See more Twitter reactions below.
BEFORE YOU GO
PHOTO GALLERY
NBA Players React To Paul George's Injury