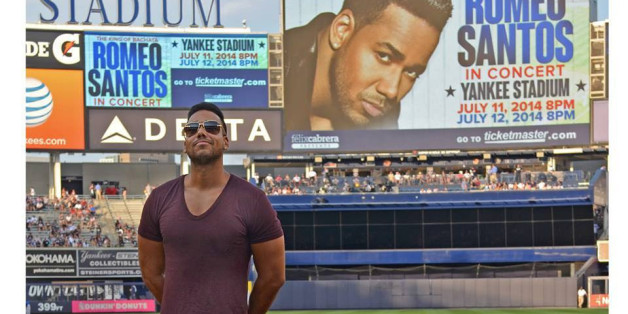 Romeo Santos' voice may have taken him to the top of the charts time and again, but it doesn't mean he's a fan of it.
After two sold-out shows in New York, the King of Bachata spoke to HuffPost Voces about all the emotions that went into his historic achievement and opened up about what he think of his own voice.
Last month, the Bronx-born artist became the first Latin artist in 40 years to headline a concert at Yankee Stadium. But that wasn't enough, Santos sold-out the venue -- two nights in a row.
"I feel relief, because everything is over," Santos told HuffPost. "It was a little stressful...to put on two shows of that magnitude on the production level, [with] surprises. It takes a lot of work. I feel proud to be able to say that I'm a part of very short list of artists who have completed a feat of this magnitude and I'm the first Latino to do it. It's a huge honor."
Santos has enjoyed the support of his Latino fans for several years, including while he was a frontman of the highly popular Bachata group Aventura, and it was that same audience that forced him to add a second concert date in his hometown.
"I felt proud, representing Latinos those two nights," the artist continued. "I felt the spokesperson, the superhero of a community, of a culture and of a genre called Bachata."
The crooner is currently basking in the success of his first two solo albums: Formula, Vol 1. and Formula, Vol. 2. Before releasing the first record in 2011, Santos admitted he did have doubts about how well he would do alone -- but only briefly.
"I had one thing clear, that I was in the music industry, which means it's all about the music," Santos told HuffPost. "And when you give the public a genuine offer with quality, with interesting things that connect with the same fans that supported me when I started with Aventura, that's what it's about, about keeping that going."
Throughout his career, many have noted that Santos' high, suave singing voice is nothing like the deep, hoarse tones of his speaking voice. When asked about what he thinks when he hears his own voice, the artist gave a surprising answer.
"I don't enjoy hearing myself talk... I don't like my voice and I don't enjoy my singing voice, I do what I do to bring pleasure and diversion to the fans. It is something that people have mentioned to me, and I think that the difference between [when I'm] singing and talking is because when I sing, I try to sing with a feeling that I don't have when I'm talking because I sound very hoarse. [Singing is] very organic to me."
Check out the two exclusive interviews with HuffPost Voces here and here.
BEFORE YOU GO
PHOTO GALLERY
Romeo Santos at Yankee Stadium