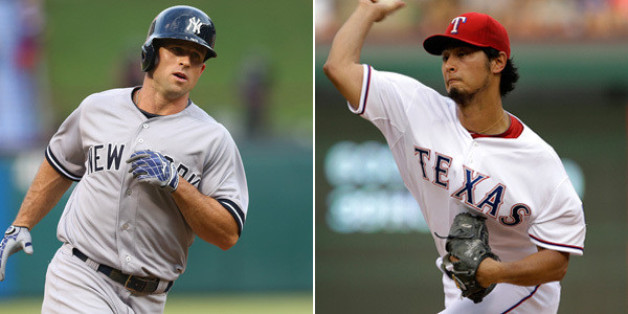 Baseball's at its best and most memorable when it doesn't stick to the script. The head-to-head matchups between Brett Gardner and Yu Darvish are just one of many reminders.
Darvish is having yet another outstanding season for the Texas Rangers (2.90 ERA, 167 strikeouts, 1.22 WHIP). He's a dominant power pitcher that can hold a vaunted slugger like Jose Bautista to no home runs and an .056 average in 18 at bats. Yet none of that matters when it comes to Gardner. The Yankee outfielder, a .270 career hitter with just 37 home runs in seven seasons, is now 5-for-11 with four home runs against the Rangers ace. It may be a small sample size, but Gardner's bat comes alive when Darvish is on the mound.
This isn't a unique occurrence. Many of the game's best pitchers have at least one hitter they should ostensibly be able to dominate, but still have yet to figure out. Billy Butler has Justin Verlander's number. Danny Valencia is a thorn in David Price's side. Ian Desmond owns Tim Lincecum. And Adam Dunn, who sports a .238 career batting average, morphs into a .615 hitter against Clayton Kershaw.
How do you explain these? Just chalk them up to being another of the many unexplainable, wonderful vagaries of baseball. Here's a look at some of the game's best pitchers, and the unlikely crop of hitters that seem to render these superstars powerless.
PHOTO GALLERY
Star Pitchers And Their Kryptonite
All statistics compiled via RotoWire