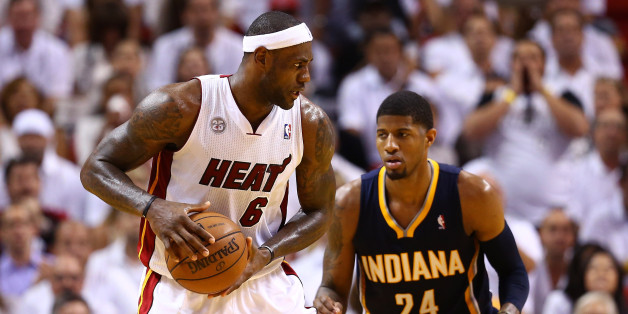 As word spread among NBA players that Indiana Pacers All-Star Paul George suffered a gruesome leg injury, many of them took to social media to offer their support and prayers. George, 24, suffered an open tibia-fibula fracture in his right leg during a USA Basketball intrasquad scrimmage on Friday night in Las Vegas.
"There's a brotherhood in the NBA and to me at moments like this family or brotherhood shows its heart, it shows its depth, and that's what I thought our players showed during that time," USA Basketball coach Mike Krzyzewski said after George's injury, via The Associated Press.
That brotherhood was evident in the anguished expressions of the players on the court with George in Las Vegas as well as in the Twitter messages shared by several of the league's other stars after they heard about the incident.
Hurt my stomach the moment I heard the news! I didn't want to believe it. Man I need u out there bro!… http://t.co/2ueciPRgtN

— LeBron James (@KingJames) August 2, 2014
My prayers goes out to @Paul_George24. I just woke up and heard the news. Stay strong Champ.

— Carmelo Anthony (@carmeloanthony) August 2, 2014
Praying for and whishing Paul George a good and full recovery. I'm sure he will come back stronger #faith

— Serge Ibaka (@sergeibaka9) August 2, 2014
Have a speedy recovery @Paul_George24. hope you'll be back on the court ASAP #NBAFamily

— Nicolas Batum (@nicolas88batum) August 2, 2014
My heart goes out @Paul_George24 and his family. I hope to never see that video again & wish they would stop showing it. #OnceIsEnoughForMe

— Nazr Mohammed (@NazrMohammed) August 2, 2014
Praying for a full recovery! @Paul_George24

— Brandan Wright (@bwright34) August 2, 2014
Lord, bless PG during this time of trial. May he come back a better man and player!

— Landry Fields (@landryfields) August 2, 2014
prayers to my bro @Paul_George24 .. I know what that feels like... PG24 will make it back better than ever!!!#PGgetwell #PrayForPaulGeorge

— Baron Davis (@Baron_Davis) August 2, 2014
My best wishes to #PaulGeorge for a speedy recovery. Despite this terrible injury, I'm sure he'll be back at his best. #NBAbrotherhood

— Pau Gasol (@paugasol) August 2, 2014
Just saw the terrible news on Paul George. Such a great young player. Hope to see him back on the court soon....

— Dirk Nowitzki (@swish41) August 2, 2014