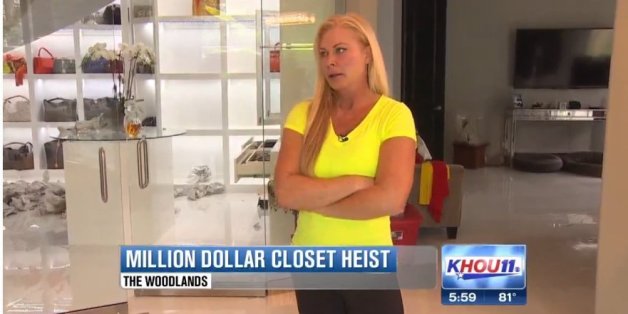 It's a sad day for ginormous closets everywhere.
Theresa Roemer, the woman who hosts charity events in her larger-than life-closet has been reportedly robbed of $1 million worth of goods, including heirlooms that were passed down from her mother-in-law.
Unfortunately, we're not too surprised that something like this happened. After all, the 3,000-square-foot playground of designer clothes, shoes, handbags that has a champagne bar INSIDE OF IT has been the subject of ton of public attention recently, namely for all the money it has raised as an event space.
The thief, who was caught on surveillance camera but has not yet been identified, stuffed three Birkin travel bags (valued at an estimated $60,000 each) with jewelry before sneaking back out of Roemer's home, according to KHOU. She and her husband were out for dinner, and neglected to set the alarm on the closet.
But it's not the expensive luggage Roemer really cares about. It's the irreplaceable heirlooms. "I mean I don't care about all this crap. I care about the stuff that was passed to me," she told KHOU.
We have a feeling she won't be forgetting to set the alarm on her "she-cave" ever again.
BEFORE YOU GO
PHOTO GALLERY
The Most Expensive Bags