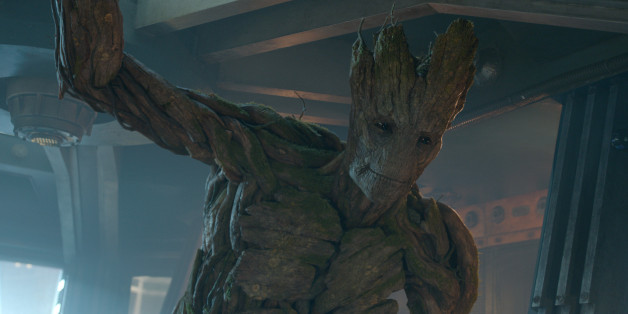 Marvel's "Guardians of the Galaxy" earned an estimated $94 million at the box office over the weekend, but its success is almost irrelevant: Before the film was even released, Marvel put "Guardians of the Galaxy 2" on the schedule for July 28, 2017.
Not that the announcement was a total surprise to anyone involved. Director James Gunn told HuffPost Entertainment he was making plans for part two before he even finished writing the first screenplay. ("Guardians," in fact, ends with a title card promising that the Guardians of the Galaxy will return.)
In a separate interview with HuffPost Entertainment, Marvel Studios head Kevin Feige explained that he and Gunn have already discussed where the franchise could go in the future.
"Certainly in the two years that we spent together on this movie -- during production or in the hours and hours we spent together in post-production, finishing the film -- there can be causal comments that start as a joke or a 'What if?'" Feige said. "And we file them away, either officially on paper or in our heads, and have them at the ready when we start to officially start to put together the next film."
One of the biggest rumors surrounding "Guardians 2" was that it would somehow connect with Marvel's other films by including an appearance from Hulk (played by Mark Ruffalo). Gunn, however, shot down that speculation last month in an interview with Indiewire's The Playist. "It is absolute, 100 percent bullshit," he told the site. "It feels like a great relief to finally say this after all the dumb stuff on the Internet."
According to Feige, Marvel doesn't pay too much attention to the various online rumors about its properties, but the producer -- a comic book fan himself -- understands why people are so interested in making guesses.
"I think it's fans doing sort of what we're doing, which is pulling from source material -- how do we want to connect the dots going forward? They're looking at clues that have been seeded in other films," Feige said. "Or, not even clues, just story lines from other films and how they can potentially set something up going forward. They don't always connect the dots in the way that we're connecting them. I think that's all part of the fun of a unified cinematic universe."
BEFORE YOU GO
PHOTO GALLERY
Guardians of The Galaxy Cast Photos