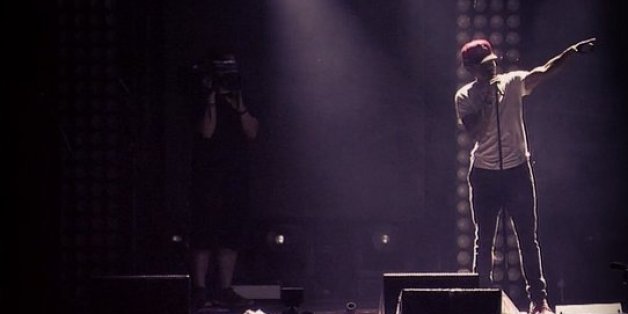 Lollapalooza's final night was Chance the Rapper's for the taking.
He had moved from last year's midday set on a small stage to the festival's latest Sunday night slot on the Perry Stage, which was used mostly for EDM acts. Though he was up against Kings of Leon, Skrillex and Darkside, Chance tweeted that Lolla organizers expected 60,000 fans to see his set. The final numbers have yet to come in, but those who braved the massive mud pit were greeted by a huge surprise: R. Kelly.
Chance introduced the controversial star halfway through his performance and described Kelly as "the Pied Piper of R&B." Then Kelly launched into a three-song run, playing "The World's Greatest," "Bump N' Grind" and "Ignition (Remix)."
Kelly's appearance was part of Chance's clear love letter to Chicago, his and Kelly's hometown. He also brought out local rapper Vic Mensa, who performed at Lollapalooza on Saturday, did the juke slide and some footwork during the 90-minute set. "This is my city," Chance told the crowd.
Frequent shout-outs to his friends, family and even the Chicago Reader reminded fans that this set was a huge moment for Chance, a homecoming after a monstrous year since his 2013 mixtape "Acid Rap" made nearly every outlet's best-of list.
"I see you turning up this whole time," Chance said before playing his last song of the night, "Chain Smoker." He called out fans watching at home on the livestream. "They know this is our city." After the show he tweeted, "Thank you."
Tonight isn't performing for performance's sake. It's a Chicago thing. I love music and touring. But tonight it's for Chicago

— Chance The Rapper (@chancetherapper) August 3, 2014
The crowd went bananas for Kelly's short performance, but some fans questioned Chance's decision to include him in the show. Just last week Fashion Meets Music Festival in Ohio dropped Kelly from its lineup after festival promoters criticized the event for booking him due to his past allegations of sexual assault and child pornography charges.
Kelly and the organizers reached a "mutual decision" for him to back out, and festival communications director Melissa Dickson told Columbus Alive, "The festival has taken a lot of heat, and we really just wanted to listen to Columbus and really take a stance and move forward."
At the time, Kelly's rep said the singer "looks forward to seeing [fans] in the near future during one of his upcoming tours." That came sooner than expected at this year's Lollapalooza.
Chance also played the hits that earned him the coveted time slot, "Everybody's Something, "Smoke Again," "Cocoa Butter Kisses" and his newly released cover of the "Arthur" theme song, "Wonderful Everyday." (Here's a full setlist.)
See more fan-shot photos and footage below.
BEFORE YOU GO
PHOTO GALLERY
Celebrity News & Photos