In honor of President Obama's 53rd birthday, enjoy his best moments in gifs. This is THE MORNING EMAIL for Monday, August 4, 2014.
The Scuttlebutt
TOP STORIES
GAZA STRIKE HITS ANOTHER UN SCHOOL
"A United Nations school sheltering displaced people in the southern Gaza Strip was hit Sunday by what a U.N. official said appeared to be an Israeli airstrike, an attack that killed 10 people as Israel signaled a possible scaling back in the ongoing war. U.N. Secretary-General Ban Ki-moon condemned the attack near the Rafah school as both 'a moral outrage and a criminal act.'" The State Department chimed in, saying the U.S. is "appalled." Today, Palestine accused Israel of breaking its own seven-hour ceasefire. And here's a refresher map on the Gaza conflict. [AP]
SECOND U.S. EBOLA VICTIM TO RETURN TO STATES
"A second American missionary stricken with Ebola is expected to fly Tuesday to the U.S. for treatment, following a colleague who was admitted over the weekend to Emory University Hospital's infectious disease unit." Dr. Kent Bradley, the infected missionary doctor who returned to the U.S. Saturday, is improving. And the son of infected missionary Nancy Writebol hopes the attention on his mother and Dr. Bradley will force research for a cure for the deadly virus. [AP]
EARTHQUAKE IN SOUTHERN CHINA LEAVES ALMOST 400 DEAD
"Rescuers dug through shattered homes Monday looking for survivors of a strong earthquake in southern China's Yunnan province as the death toll rose to at least 398 people, with more than 1,800 injured." Heavy rain has hampered rescue efforts. Here's the front page of China's Global Times. [AP]
STATESIDE: They're Just Cookies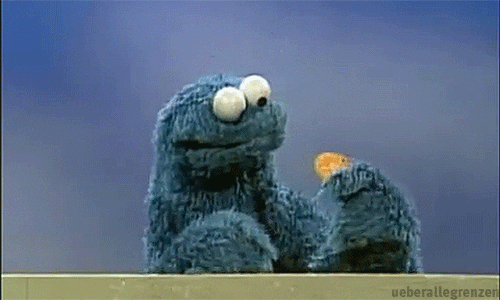 This man allegedly tried to kill his roommate after she ate three of his cookies -- he really needed one of these to just avoid this whole problem. Could Texas have executed an innocent man? If you haven't read about the Kentucky Senate Fancy Farm antics, you haven't experienced politics at its worst best. Over 400,000 people in Northwest Ohio are going into day three without water. California was ravaged by wildfires and hit by a mudslide this weekend. The best kind of Pez dispensers are the ones stuffed with $100 and buried in New York City beaches. And a boy who got lost in the Big Apple said it was the "best day of his life" -- his parents must be thrilled.
In hitting the sack news, these pugs cannot stay awake.
INTERNATIONAL INTRIGUE: World? What World?
World falling apart? You wouldn't know from this year's midterm campaign ads. ISIS "now controls resources and territory unmatched in history of extremist organizations." A Bangladesh ferry carrying 250 passengers has capsized. Obama said Russia "doesn't make anything". Don't miss this refresher on the "State of Africa" before the U.S.-Africa Leaders Summit. Russia pursued a U.S. flight that was in international airspace AND held military air exercises near Ukraine. And a French hospital is opening a wine bar for the terminally ill.
In preparation news, this dog won't eat his food unless he mixes it personally.
BUY! SELL! BUY! Bacon is the Best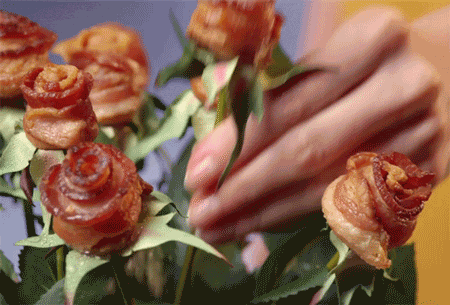 Bad news, bacon lovers: the price of the good stuff just keeps getting higher. Here's why recalled cars stay on the road. Forget the coasts: inland cities are poaching residents with cheaper housing. The death of billions of oysters has forced the state of Washington to get into the climate change fight. And everyone loves a Pinterest-perfect wedding in a barn -- everyone except the neighbors.
In old school news, these kids don't understand typewriters.
SCOUTING REPORT: Getting Hit in the Back is No Fun
Andrew McCutchen made it very, very clear that he doesn't like getting nailed in the back, thank you very much. This little girl managed to evade security on the field at the Reds-Marlins game for quite some time. Here's who won the MLB trade deadline (and lost big time). And Paul George thanked his fans for all their support after his horrific leg injury Friday.
In bedtime story news, these twins do NOT want to go to sleep.
CULTURE CATCH-UP: Proving Six Degrees from Kevin Bacon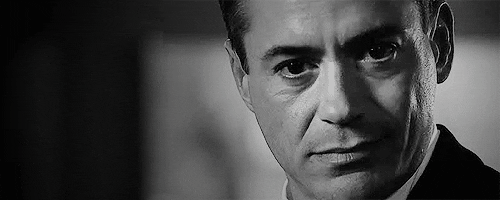 Always wanted to watch a movie with George Clooney, Robert Downey Jr., Jeff Daniels, AND Diane Reeves? Now the app "That Movie With" can tell you what movie they've all starred in. "Guardians of the Galaxy" destroyed expectations this weekend with a $94 million U.S. haul, cementing Marvel's status as the king of the box office this year. David Gregory isn't going down without a fight -- he was spotted at CNN on Thursday. In pitch perfect casting, Bill Murray is set to voice Baloo for the live-action version of "The Jungle Book." Anwan Glover, aka Slim Charles from "The Wire," was stabbed in a D.C. nightclub Sunday. And Beyonce casually dropped a remix of "Flawless" that addresses THAT infamous elevator incident.
In coinkydink news, this woman photobombed her fiance in a photo taken 11 years before they met.
LIVIN': Charging Your Phone is Hard
Here's how to speed up the inevitable last minute iPhone charge. This is the color you need to be wearing if you want to look like an A-lister (and are unlike us and averse to spilling things on yourself 24/7). Shirtdresses are the new fashionista item -- as long as you style them so you don't look like you're wearing a smock crossed with a moo moo. This chrome add-on automatically applies coupons it finds for online shopping when you check out. And because you can't possibly post an Instagram shot that's nothing less than Beyonce-level fabulous, here's how you upgrade your flat insta game.
In stylish pup news, this dog was the subject of a newborn baby-esque shoot.
OTHER PEOPLE'S BUSINESS: J-Law's Single?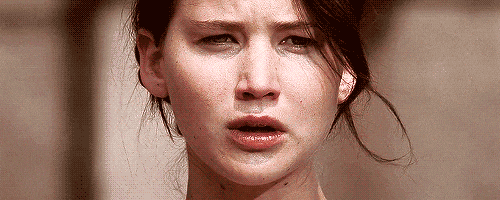 Sounds like Jennifer Lawrence is on the market. Page Six now believes Beyonce and Jay Z's tour may collapse before it makes it to San Francisco. Kim Kardashian and Paris Hilton reunited in Ibiza, and you should care because Kim's come a long way from being Paris's personal assistant (and by "care," we mean think about it for about a second...maybe). Michael Strahan has called off his engagement to Nicole Murphy. Hayden Panettiere's bikini baby bump photos couldn't be cuter. Jennifer Aniston rocked an Elsa braid. Here are the first photos from RFK Jr. and Cheryl Hines' wedding. And Gisele posted a photo of her and Tom Brady basically making out.
In herd mentality news, these cows love hearing trombone-renditions of Lorde's "Royals."
TWITTERATI
@sirrndsnd: #WhereAreTheyNow: a question no one asks about someone who is still relevant.
@HistoryInPics: Apple's clothing collection, 1986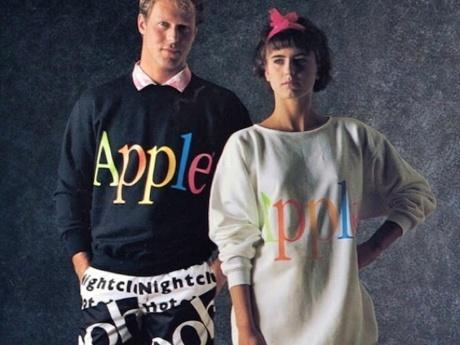 @TheTweetOfGod: In an ideal world the unit of time used to measure the length of a ceasefire would not be hours.
@lenadunham: The question is who can hold out longer, my migraine or this street drummer outside my window?
@TIME: Pictures of the Week: Beach day on the Mediterranean (Jon Nazca—Reuters) ti.me/1m9XHCU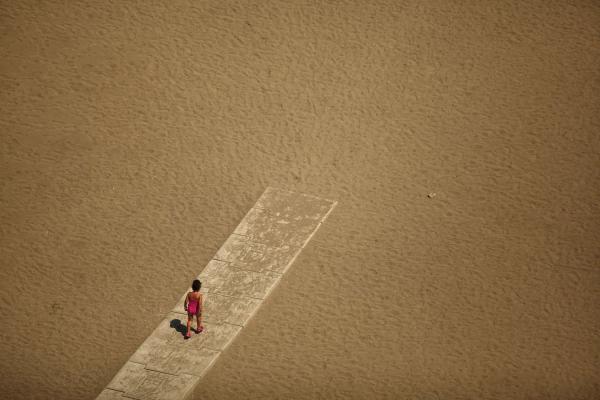 ONE MORE THING
Here's how to wash your hands in a public restroom without worrying about picking up more germs than you're scrubbing out.
Got something to add? Send tips/quips/quotes/stories/photos/events/scoops to Lauren Weber (lauren.weber@huffingtonpost.com). Follow us on Twitter (@LaurenWeberHP). Does somebody keep forwarding you this newsletter? Get your own copy. It's free! Sign up here.