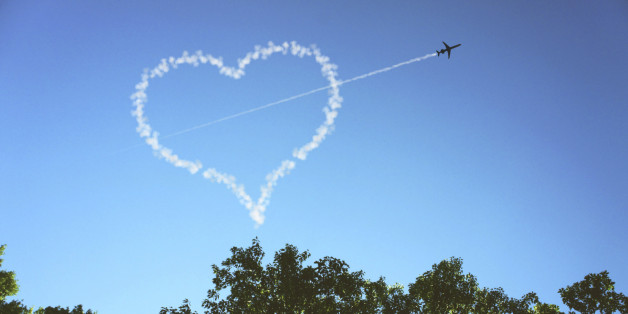 If love makes your heart soar, this young lad's heartfelt campaign will have you flying.
Jamie Kelly, a 24-year-old Irishman, met Katie, a charming young woman from Canada, last week when the two sat next to each other on a Ryanair flight from Barcelona to Dublin. The pair hit it off immediately, reports Breaking News Ireland, and talked throughout the entire flight.
In the hubbub of disembarking from the plane and going through customs, however, the smitten passengers lost each other before they could exchange contact information. Kelly waited and looked for Katie after passing through customs, but he couldn't find the mystery woman.
Undeterred, he set off on an epic search, scouring the Internet in search of the woman he knew only as "Katie."
"I originally looked for her Facebook and couldn't find her," Kelly recalled to the Canadian Broadcasting Corporation last week. "And I went to the airline and they couldn't do anything for me. So then I went on the [Irish radio] D'Arcy Show today and they couldn't find her."
So he enlisted Twitter to help in the search, uniting the effort under the hashtags
#loveatfirstflight
and
#findkatie
:
Is your name Katie? Are you from Nova Scotia? Are you travelling around Ireland? Did you recently meet a young lad called Jamie? #findkatie

— Niamh Hassell (@niamhhassell) August 1, 2014
#findkatie canadien girl, brown hair travelling around Ireland with her mum! @theoriginalgoup is looking for her. #loveatfirstflight

— gerard blaine (@gblaineofficial) August 1, 2014
Eventually, after Kelly appeared on several Canadian news outlets, Katie's sister connected the dots and helped set up a meeting between the two Wednesday.
Kelly (left) and Katie (right):
#LoveAtFirstFlight pair reunite on the Ray D'Arcy Show http://t.co/SD2XJ4NGou @todayfmofficial pic.twitter.com/HdRkcdUzzo

— BreakingNews.ie (@breakingnewsie) August 5, 2014
In an email to the CBC, the mystery woman, identified as 27-year-old Katie Moreau, said she was "very surprised and flattered" by Kelly's efforts.
"When I was on the plane I talked to him incessantly," she said. "We had lots in common plus he was very easy on the eyes."
Katie added she had also searched for the "handsome Irishman" after she'd cleared customs but was afraid of looking desperate. "I thought I might have scared him off actually from all the talking," she told Ireland's Today FM. "I suppose, in hindsight, looking a bit longer wouldn't seem as desperate in comparison."
The two have plans to meet soon. Love, as they say, is in the air.
BEFORE YOU GO
PHOTO GALLERY
Love Locks Around The World