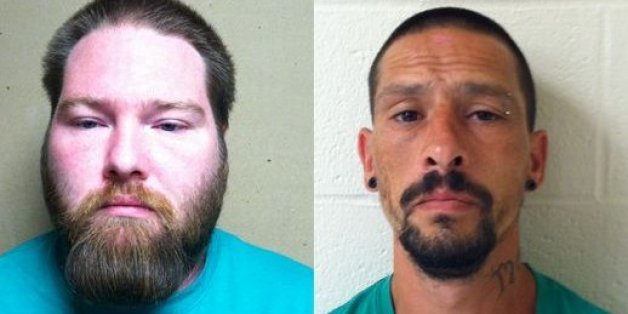 Two men face multiple charges after police say they beat their roommate, tried to cut off his tattoo and set him on fire.
Paul Martin Hurst, 33, and Cary Lee Edwards, 35, were arrested Monday after the alleged attack at their Hebron, Maryland home, the Baltimore Sun reports.
Deputies say Hurst and Edwards argued with their roommate, 31-year-old Zachary Swanson, about how he treated his girlfriend, according to Delmarva Now.
In the ensuing fight, Hurst and Edwards beat their roommate until he was close to death, according to WBOC.
The two men also allegedly tried using a knife to cut a tattoo off of Swanson's arm. When they failed at that mutilation, police say they set his arm on fire.
Swanson suffered severe burns, brain bleeding, 11 broken ribs, a liver laceration and swelling around his eyes.
On Monday, Wicomico County Sheriff's officials said in a press release that investigators believed all three men might be Juggalos, or fans of the hip-hop duo Insane Clown Posse. Juggalos are officially classified as a "gang" by the FBI.
Sheriff Mike Lewis later said he believes the men are definitely Juggalos.
"They are followers of the Insane Clown Posse, without question," Lewis told Delmarva Now.
The pair's charges include attempted murder, assault and reckless endangerment.
Like Us On Facebook |

Follow Us On Twitter |

Contact The Author
BEFORE YOU GO
PHOTO GALLERY
Anger Management