Half a million residents of the Toledo, Ohio area were forced to live without tap water this past weekend after tests revealed the presence of a dangerous toxin that can cause nausea, vomiting, headaches and fever.
The toxin, known as microcystin, was produced by an excess of a
specific type of algae in Lake Erie
, the body that supplies Toledo and surrounding towns with water. The algae turned the water in parts of Lake Erie into a thick, green mess. The
two-day ban on tap water
was lifted Monday morning, but concerns linger about how to prevent and monitor future microcystin contamination.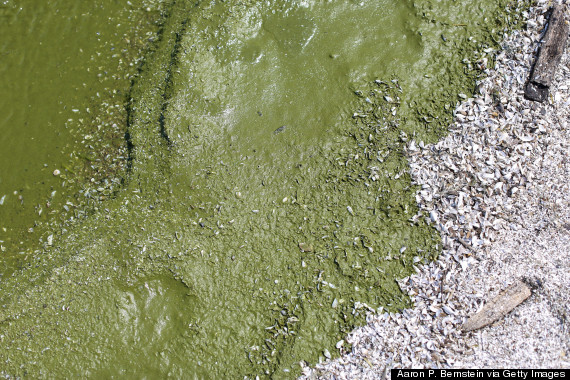 Algae from Lake Erie washes ashore at Maumee Bay State Park August 4, 2014 in Oregon, Ohio. Toledo, Ohio-area residents were once again able to drink tap water Monday after a two-day ban due to algae-related toxins.
"We are going to have to have a realistic approach to this through the federal government and through our state partners," Toledo Mayor D. Michael Collins told WTOL reporters Monday. "We must address the algae bloom problem. That is really the critical component of it."
An algal bloom is the term for what happens when the algae population in a water system suddenly explodes. In Lake Erie, blooms of the blue-green algae that produce microcystin occur when excess phosphorus washes into lake from the surrounding watershed. The National Oceanic and Atmospheric Administration, which monitors the severity of algal blooms, predicted harmful blooms earlier this year, but said they would not be as bad as those of 2011 and 2013.
Other areas of the Great Lakes, including parts of Lake Huron and Lake Michigan, are also vulnerable to rampant algal growth, but Lake Erie is the warmest and shallowest of the five bodies. This creates good growing conditions and makes Lake Erie especially prone to algal blooms, according to the Associated Press. The lake is also loaded with the nutrient phosphorus, which promotes algal growth.
According to the Ohio Lake Erie Phosphorus Task Force, part of the state Environmental Protection Agency, there's not a good system in place for keeping phosphorus out of the water supply. In a report last fall, the task force recommended reducing the total phosphorus load in the Maumee River, which empties into Lake Erie, by 39 percent annually. Though sewage treatment plants, which used to be the biggest source of phosphorus, are now regulated, agricultural sources are not. Fertilizers and animal manure from farms, along with runoff from lawns and streets, all contribute to phosphorus pollution. But despite pressure from environmental groups to reduce phosphorus runoff in the Great Lakes states, Ohio legislators have yet to impose restrictions on fertilizer to protect the lake.
Climate change and invasive mussels can also increase algal blooms, Don Scavia, an aquatic ecologist at the University of Michigan, told The Huffington Post. But, he said, reducing the phosphorus load in waterways "is the only thing we can control."
"Reducing that load is the key focus for management," said Scavia. "This has been known for quite some time, and hopefully this human health issue will draw sufficient attention to it for action." The City of Toledo water intake crib is surrounded by algae, Sunday, Aug. 3, 2014, in Lake Erie, about 2.5 miles off the shore of Curtice, Ohio.
Toledo officials told local news stations that the latest spike in toxin levels happened because the algal bloom occurred right over the city's water intake site in Lake Erie. Toledo's water incident prompted Chicago officials to conduct additional tests for microcystin, in addition to their routine blue-green algae testing. Chicago's water department found no increase in levels of the toxin.
"The continuing problem of nutrients flowing through this Maumee River, flushing through here and then going out into the bay, will add to what's already out here," Rep. Marcy Kaptur (D-Ohio) told WTOL. "We have to stop the source of the problem, and that's where it's going to take cooperation."
U.S. EPA documents show that treating water affected by harmful algal blooms can be difficult, as certain methods of water treatment remove some algal toxins but not others. Moreover, there are no standard testing or sampling protocols and no federal standards for microcystin.
"There are no exact tests. There is no exact protocol," Ohio Gov. John Kasich (R) said in a press conference Sunday. This means that the different agencies testing for the toxin kept getting different results, which in turn made it difficult for them to confirm each others' findings and may have delayed the lifting of the water ban.
"[The federal government] must develop a protocol that is much more exact and efficient than was used this weekend," Kaptur told WTOL.
A U.S. EPA spokesperson told HuffPost that approved methods for testing algal blooms will only be needed if the EPA comes up with regulatory requirements.
"Since EPA does not require monitoring for algal toxins the Agency has not yet established an approved analytical method," the spokesperson said in an email. "EPA-approved analytical methods must be sensitive, accurate and reproducible in the drinking water laboratories across the country. EPA has been working with other government agencies, universities, consensus methods organizations, water laboratories, and instrument manufacturers to ensure that the approved methods meet the three characteristics listed above."
The state says that as a result of the recent water ban, the Toledo Department of Public Utility has established a set of protocols that can be used to standardize water testing across Ohio. But there are still questions about the best possible test for the toxin, and the EPA says it hasn't finished research on which detection method is best.
"Our government has to come to the realization it's time to stop talking about western Lake Erie and do something about it," Collins said earlier this week, according to the Toledo Blade. "I'd like them to stop acting like feral cats trying to organize a parade."
HUFFPOST READERS: If you were affected by last weekend's water ban in Toledo, we want to hear about your experience, and whether you're still worried about the safety of the water in your area. Email us here.
BEFORE YOU GO
PHOTO GALLERY
America's Most Endangered Waterways (2013)