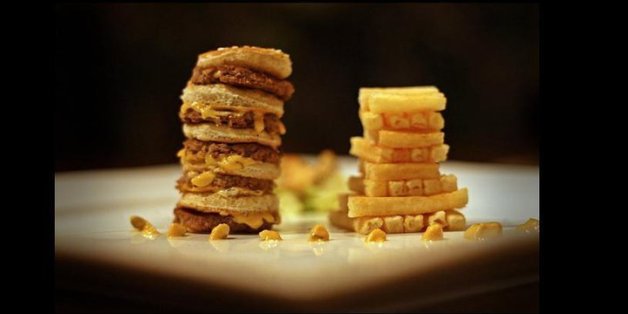 With a bit of creativity, a dose of precision and some time to spare, even the most standard of fast food meals -- a Big Mac and fries -- can be transformed into a Michelin-star-worthy dinner.
Redditor MarkHayes and his friend challenged each other to craft a "fancy" looking meal by using ingredients from a Big Mac combo, including a Big Mac, an order of fries and a Coke.
MarkHayes executed an impressive plate, featuring a stack of tiny burgers, a nest of fries shaped like a Jenga game and a miniature salad made from the sparse lettuce that adorns the cheeseburger. The dish was accompanied by Coke, served in a wine glass (with a straw) to wash it all down. His pal produced an inventive spread comprised of wee shepherd's pies made from the Big Mac and sesame seed (extracted from the bun) crisps.
Check out the imaginative competition below (with MarkHayes' captions), then tell us who deserves the prize (a trophy made of golden arches, perhaps?) in the comments section.
My friend and I squared off in the kitchen to see who could turn the ingredients of a Big Mac Meal fancy

Big Mac Meal deconstructed. These are the only ingredients we were allowed to use

My finished product. 5 times cheeseburger with a potato tower, salad with sesame seed bun croutons & mac sauce garnish

A dramatic picture of my fancy big mac meal

Coke in a wine glass! Also, first time I've had McDonalds with real tableware

My friend's finished product: Big Mac mini sheppards pies w/ sesame seed crisps and a salad

Fanciest Big Macs I've ever seen! Who do you think won?

H/T: Reddit
Want to read more from HuffPost Taste? Follow us on Twitter, Facebook, Pinterest and Tumblr.
BEFORE YOU GO
PHOTO GALLERY
McDonald's Secret Menu