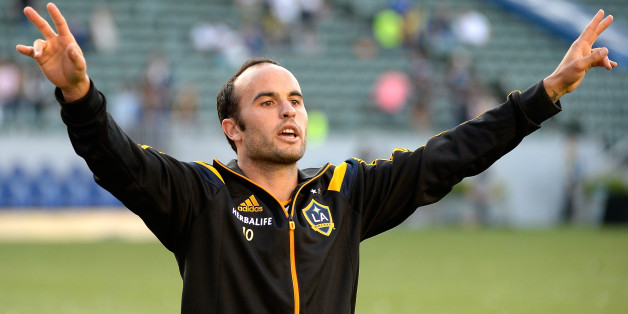 Landon Donovan, the all-time leading scorer in U.S. men's soccer history, announced on Thursday that his 14th Major League Soccer season will be his last as a professional soccer player. The Los Angeles Galaxy midfielder said he will retire at the end of the 2014 MLS season.
"I don't write these words lightly and this day carries mixed emotions for me. I am sad to leave a profession that has brought me so much joy," Donovan wrote on his Facebook page. "I will miss all of the teammates who helped me create so many incredible memories on-the-field, and who I have shared many wonderful experiences with off-the-field. I will miss my coaches, at both the club and national team levels, who have helped me develop throughout my career and helped make me the player I am today."
Donovan played for the U.S. national team at the World Cup in 2002, 2006 and 2010. But he was controversially left off the final roster that went to Brazil for the 2014 World Cup. At 32 years old, Donovan also holds U.S. men's soccer records for most games most started (140), most assists (57) and most points (171).
Read his full post on Facebook below:
Shortly after the announcement, other American soccer players congratulated Donovan on Twitter for an amazing career.
Congrats to @LandonDonovan who will conclude an amazing career at the end of this season. #ThanksLD

— U.S. Soccer (@ussoccer) August 7, 2014
It's been an honor @landondonovan #ThanksLD pic.twitter.com/kMSNAwKLeT

— tim howard (@TimHowardGK) August 7, 2014
Thank you LD.. You're a legend. #LegenD @landondonovan

— DeAndre Yedlin (@yedlinny) August 7, 2014
Congratulations to Landon Donovan for an unbelievable career. You Put US soccer on the map and we are all very grateful. #LD10

— Freddy Adu (@FreddyAdu) August 7, 2014
Proud to say I played with and against a US legend. #thanksLD

— Michael Parkhurst (@MFparkhurst) August 7, 2014