WASHINGTON -- While Sen. Elizabeth Warren (D-Mass.) hasn't yet joined all the presidential aspirants heading to Iowa to test the waters, her backers are there, hoping to convince future caucus-goers that there's another option besides Hillary Clinton.
Ready for Warren, the grassroots group urging Warren to run for president, is making its Hawkeye State debut at the Iowa State Fair this week. About 15 volunteers are handing out stickers and signing up new supporters.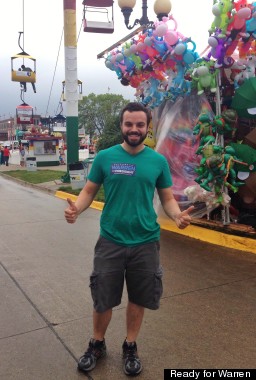 Zander, a Ready for Warren volunteer, at the Iowa State Fair in August 2014.
"We're here to kick off our organizing in Iowa and start talking to Iowans about what they want to see in a 2016 candidate and talk about why we're supporting Warren," said campaign manager Erica Sagrans, who noted that the group is looking to hire an organizer in Iowa to set up a Ready for Warren office.
Ready for Hillary, the political action committee laying the groundwork should Clinton jump into the presidential field, has already started to make inroads in Iowa. In January, the group, along with more than 100 other Clinton backers, held a strategy session to make sure that the Iowa infrastructure will be in place if she declares her candidacy.
Clinton came in third in the Iowa caucuses in 2008, while Barack Obama came in first.
Sagrans acknowledged that Clinton will likely have a significant amount of support in Iowa. But, she said, that doesn't mean there isn't room to pitch Warren.
"Even people who say that they like Hillary say they think it's a good idea for Warren to run," Sagrans said. "They like the idea of her running. I think also, in terms of the Iowa caucuses, Warren could bring a really exciting energy to that process and make it more of a contest as opposed to just having it be inevitable that Clinton will win if she runs."
Since the launch of Ready for Warren in mid-July, the senator has insisted that she's still not running for president.
"I'm going to give you the same answer I have given you many times," Warren told the Boston Globe last month. "There is no wiggle room. I am not running for president. No means no."
But Ready for Warren isn't giving up.
"We have not been discouraged," said Sagrans. "Warren has said that, but Barack Obama said that before he was running. Hillary Clinton said she would not run again after she ran the first time. So every candidate has to say that they're not running until they're actually in the race, and that's our take on what Warren is doing."
A significant number of politicians will be at the fair this year, including Texas Gov. Rick Perry (R), Sen. Ted Cruz (R-Texas), Louisiana Gov. Bobby Jindal (R), Democratic National Committee Chair Debbie Wasserman Schultz (D-Fla.) and just about every public official from Iowa.
Want more updates from Amanda? Sign up for her newsletter, Piping Hot Truth.