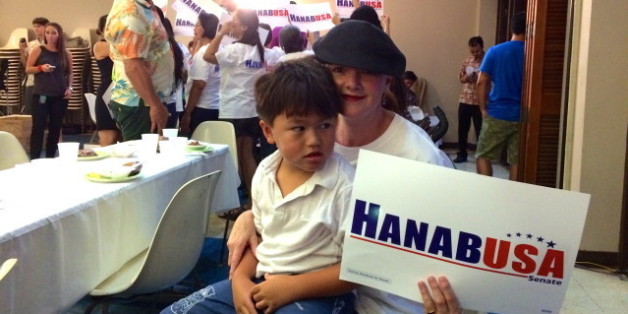 U.S. Rep. Colleen Hanabusa is leading U.S. Sen. Brian Schatz in the Democratic primary race to replace the late U.S. Sen. Daniel K. Inouye.
Early election results released Saturday evening have Hanabusa up 49.4 percent to 47.2 percent for Schatz in what has been a tight and contentious race that has polarized Hawaii's Democratic Party.
The first round of results includes most absentee and early walk-in ballots, according to elections officials.
The campaign between Schatz and Hanabusa started almost immediately after the death of U.S. Sen. Daniel K. Inouye on Dec. 17, 2012.
Hawaii Gov. Neil Abercrombie ignored Inouye's dying wish to appoint Hanabusa to fill out the remainder of his term. Instead, Abercrombie picked Schatz, his lieutenant governor, to head to Washington, D.C.
Hanabusa was upset about being passed over by Abercrombie, and tried to use the slight to her advantage during the campaign.
Many of Inouye's supporters backed Hanabusa in her bid to unseat Schatz, including the late senator's widow and retired U.S. Sen. Daniel K. Akaka.
But even with Inouye's camp standing behind her, Hanabusa struggled to raise funds and bring in endorsements.
Schatz outraised the congresswoman nearly 2-to-1 in campaign contributions, which allowed him to run a more sophisticated campaign and stay out front with advertising and other messaging.
He also received key endorsements from President Barack Obama and many of his Democratic colleagues, including U.S. Sen. Harry Reid.
Schatz and Hanabusa struggled to differentiate themselves on the issues. Each is considered a liberal Democrat, and they tend to fall along party lines on all the major talking points.
This often left the campaigns arguing about the minutiae of particular congressional votes.
Social Security and Iraq became major talking points in the months leading up to the elections.
Schatz and Hanabusa accused each other of trying to cut entitlement programs for seniors, although both have strong views about protecting Social Security and Medicare.
Obama's decision to send troops back to Iraq to protect the U.S. Embassy also divided the lawmakers.
Schatz supported the move, saying it was important for America's long-term diplomacy goals, while Hanabusa worried about mission creep.
The contest has had some non-Inouye-related drama.
Early on, the Hanabusa camp blasted Schatz's campaign for a memo it released to potential boosters that boasted of his money advantage and downplayed the influence of ethnic politics.
The candidates also struggled to say anything positive about each other, falling flat in Civil Beat editorial board meetings and during live televised debates.
Hanabusa, who most polls indicated was the underdog in the race, did her best to tie Schatz to Abercrombie, who was also struggling to connect with voters.
In particular, she attempted to link Schatz to the governor's unpopular attempt to tax pensions, something the senator said he disagreed with.
The winner of the Senate seat will serve only the remaining two years of Inouye's term, so the contest may be a bit of a dress rehearsal for the 2016 race.
The Democratic primary winner is the strong favorite to win the general election against presumed Republican nominee Cam Cavasso, who is currently leading the field in his race.
Cavasso is a former state representative from Waimanalo. He ran for the U.S. Senate in 2010 against Inouye and lost by 51 percentage points.
Other candidates on the ballot included Joy Allison, Brian Evans, Harry J. Friel, Jr., Michael Kokoski, Eddie Pirkowski, Arturo Pacheco Reyes and John P. Roco.
For complete election results, visit the Hawaii State Elections Office.
Nick Grube is a reporter for Civil Beat. You can reach him by email at nick@civilbeat.com or follow him on Twitter at @nickgrube.
BEFORE YOU GO
PHOTO GALLERY
Senate Seats Up For Grabs In 2014