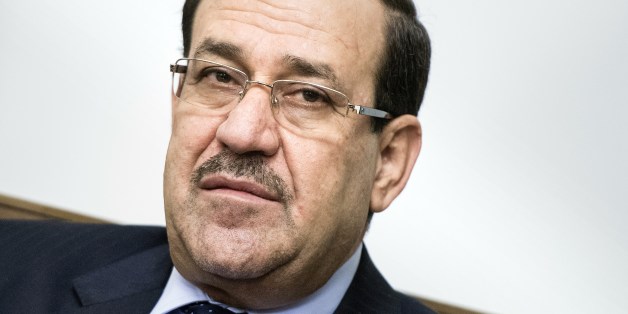 BAGHDAD, Aug 11 (Reuters) - Special forces loyal to Iraqi Prime Minister Nuri al-Maliki were deployed on Sunday night in strategic areas of Baghdad, police said, after he gave a tough speech on television indicating he would not cave in to pressure to drop his bid for a third term.
Several police sources also said the forces had taken up positions at key entrances to the sprawling capital. (Reporting by Ahmed Rasheed; Writing by Michael Georgy; Editing by Sandra Maler)
BEFORE YOU GO
08/16/2014 6:07 PM EDT
Kurdish Officials Say 300 Killed In Friday 'Massacre'
Correspondent for Britain's The Sunday Times Hala Jaber reports that Kurdish and Yazidi officials say the death toll from the Islamic State's attack on the Iraq village of Kocho on Friday is higher than previously estimated. A Kurdish official initially said around 80 people lost their lives.
#IS has carried out the mass executon of over 300 Yazidi men 4m the village of #Kocho last night & taken 1000 women and children prsisoners.

— Hala Jaber (@HalaJaber) August 16, 2014
.2/ The claim by the #Yazidi leader #Mirza_Dinnayi was also confirmed by a senior Kurdish official in #Erbil.

— Hala Jaber (@HalaJaber) August 16, 2014
.3/ #Yazidi leader said they asked 4air strikes agst #IS tagets in village, but non came & tt #Obama saying its over allowed #IS 2 massacre.

— Hala Jaber (@HalaJaber) August 16, 2014
.4/ 1000 women were taken as prisoners by #IS split into 2 groups. The "pretty incl gilrs aged btwn 10-11 and the others.

— Hala Jaber (@HalaJaber) August 16, 2014
.5/ His claims were confirmed by a senior Kurdish official independt of Mirza. More details in @thesundaytimes 2morrow also @itvnews @jrug

— Hala Jaber (@HalaJaber) August 16, 2014