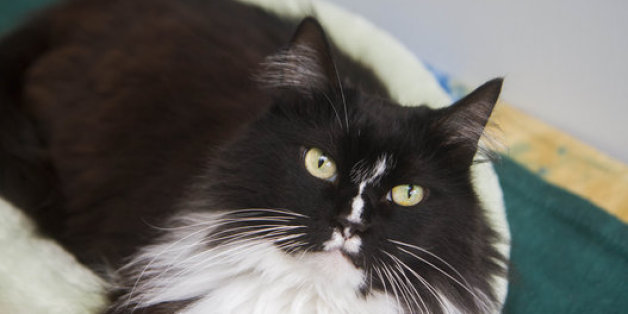 The 2,845 cats that have wound up at the Austin Animal Center in Texas since May 1 are incredibly lucky. "We have either found fosters, rescue groups or adopted out all of these cats and kittens," AAC representative Kasey Spain says.
But summer isn't usually so good for homeless cats.
Sure, "kitten season," the months in late spring through early fall when cats are giving birth, sounds adorable -- like, really, really adorable -- but it means shelters and rescue groups are flooded with felines. And a lot of them won't make it out alive.
The American Society for the Prevention of Cruelty to Animals estimates that 41 percent of cats that enter the shelter system are euthanized.
To try to bring that number down, cat adoption specials are being offered all across the country. For example, the Washington Humane Society, in the nation's capital, has lowered feline adoption fees to $5 for Saturday, and PAWS Chicago -- Chi-town's largest no-kill shelter -- is running a summer-long kitten challenge to get lots of its young purr-balls into homes.
"Every 20 minutes, a cat or kitten dies in a city shelter," Spain says. "If you are looking for a new pet, why not save a life at the same time?"
Lucky for you, we've rounded up 127 cats and kittens that need a home.
PHOTO GALLERY
These Cats Need Homes!
Pictures and information courtesy of Best Friends Animal Society in Salt Lake City; the Highland County Humane Society, the Animal Welfare League of Alexandria; King Street Cats; SPCA of Northern Virginia; Homeless Animals Rescue Team and Homeward Trails Animal Rescue in Virginia; the Washington Humane Society and the Washington Animal Rescue League, in D.C.; the Kauai Humane Society in Hawaii; Metro Animal Care and Control in Nashville, Tennessee; The Helen Woodward Animal Center in Rancho Santa Fe, California; Animal Care & Control of NYC; Pets for Seniors and PAWS Chicago in Illinois; PAWS Seattle; The Austin Animal Center, in Austin, Texas; The Baltimore Humane Society and Rude Ranch Animal Rescue, in Maryland.
Know a rescue group doing great work? Have an animal story to share? Get in touch at arin.greenwood@huffingtonpost.com.