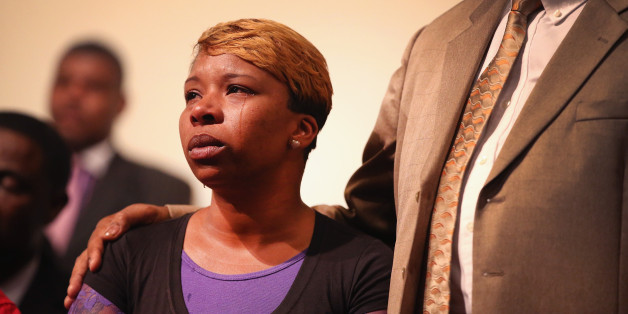 WASHINGTON -- The American Civil Liberties Union of Missouri filed formal requests on Tuesday to obtain a copy of the police incident report naming the officer who shot Michael Brown, the unarmed black teenager killed Saturday while walking down the street in a St. Louis suburb.
The ACLU submitted its requests to the Ferguson Police Department and the St. Louis County Police Department. Both were filed under the state's Sunshine Law, which stipulates that records of public governmental bodies be made open to the public.
Diane Balogh, communications director for the ACLU of Missouri, said the group filed the requests specifically to find out the identity of the police officer. The Ferguson Police Department originally planned to release the officer's name on Tuesday, but then decided not to, citing threats against the officer. In the meantime, the Justice Department is overseeing an investigation into the shooting and Ferguson has become a scene of daily protests and vandalism, with police even using tear gas on people standing in their own backyards.
"If they don't follow through, we will file a lawsuit and hold a press conference," Balogh told The Huffington Post. "There have been other situations where we've actually had to sue the police department because they haven't fulfilled the Sunshine Law requirements."
She added, "The police like their secrets."
Missouri's Sunshine Law specifies that requests for information be acted on as soon as possible, but "no later than the end of the third business day following the date the request is received."
Requests for comment from the Ferguson Police Department and the St. Louis County Police Department were not immediately returned.
The ACLU isn't the only group intent on identifying Brown's shooter. The group of activist hackers known as Anonymous has vowed to out the officer's name through its own efforts, which so far have included hacking into city computers and temporarily shutting them down.
BEFORE YOU GO
08/26/2014 7:49 AM EDT
The Toll On Michael Brown's Family
USA Today's Yamiche Alcindor provides an intimate look at how Michael Brown's parents have been dealing with the loss of their son:
Phones constantly ring with reporters asking for interviews or family members offering support. Last week, as demands reached a tipping point, both parents moved into hotels to shield themselves.

In the days leading up to the funeral, Brown's mother continued to cry and spoke in whispers as she tried to explain her feelings.

"They say tomorrow is going to be the hardest day, but I think today was — just seeing my baby laying there, cold," Lesley McSpadden, 34, told USA TODAY. "It did something to my heart. It's too much. It's too much."