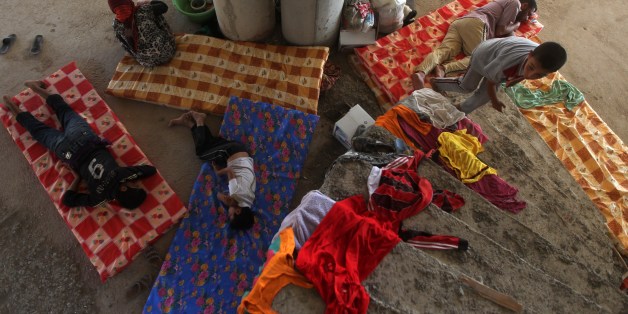 Islamic State fighters abducted over 100 Yazidi women and children when they captured the northern Iraqi town of Sinjar last week, a senior commander in the group told CNN on Wednesday.
Militants from the Islamic State, formerly known as ISIS, killed many of the Yazidi men in Sinjar and have taken the women and children to Mosul, a city controlled by the extremist group, the commander said in a telephone interview with CNN.
Earlier, a spokesman for Iraq's Human Rights Ministry said hundreds of Yazidi women below the age of 35 had been taken captive and are being held in schools in Mosul.
A U.S. official, speaking on condition of anonymity, told the Associated Press that the women were kidnapped so that they can be sold or married off to extremist fighters.
Tens of thousands of Yazidis -- members of a minority group deemed heretical by the Islamic State -- fled their homes earlier this month as the militants advanced through northern Iraq.
BEFORE YOU GO
08/16/2014 6:07 PM EDT
Kurdish Officials Say 300 Killed In Friday 'Massacre'
Correspondent for Britain's The Sunday Times Hala Jaber reports that Kurdish and Yazidi officials say the death toll from the Islamic State's attack on the Iraq village of Kocho on Friday is higher than previously estimated. A Kurdish official initially said around 80 people lost their lives.
#IS has carried out the mass executon of over 300 Yazidi men 4m the village of #Kocho last night & taken 1000 women and children prsisoners.

— Hala Jaber (@HalaJaber) August 16, 2014
.2/ The claim by the #Yazidi leader #Mirza_Dinnayi was also confirmed by a senior Kurdish official in #Erbil.

— Hala Jaber (@HalaJaber) August 16, 2014
.3/ #Yazidi leader said they asked 4air strikes agst #IS tagets in village, but non came & tt #Obama saying its over allowed #IS 2 massacre.

— Hala Jaber (@HalaJaber) August 16, 2014
.4/ 1000 women were taken as prisoners by #IS split into 2 groups. The "pretty incl gilrs aged btwn 10-11 and the others.

— Hala Jaber (@HalaJaber) August 16, 2014
.5/ His claims were confirmed by a senior Kurdish official independt of Mirza. More details in @thesundaytimes 2morrow also @itvnews @jrug

— Hala Jaber (@HalaJaber) August 16, 2014