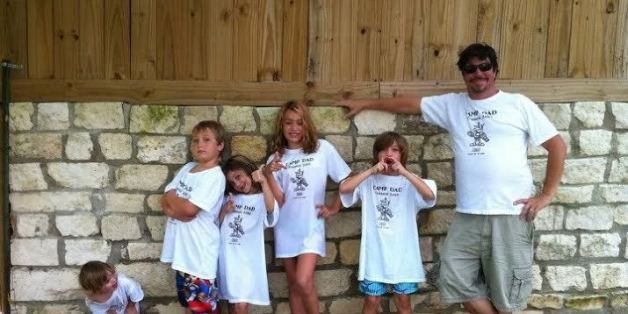 As part of our Blended Family Friday series, each week we spotlight a different stepfamily to learn how they successfully blended their two families. Our hope is that by telling their stories, we'll bring you closer to blended family bliss in your own life! Want to share your own story? Email us at divorce@huffingtonpost.com.
Sometimes a play date is so much more than a play date. Take it from Cassandra Barnhart. What started out as a simple meet-up between her, a single dad from her neighborhood named Ed, and their two sets of kids quickly developed into a lot more.
"That initial play date turned into a lunch date, then a dinner date, and very soon, the six of us were inseparable," she told us via email. "We were engaged by June, and married on Valentine's Day the next year. We had a destination wedding, the boys were ring bearers, and the girls were flower girls. We even brought them along on our 'Family Moon,' so we could start our life journey all together."
Today, the pair are celebrating their fifth anniversary and loving life with their five kiddos. In our Q&A below, Cassandra shares some of the biggest lessons she's learned about raising a blended family over the last few years.
Hi Cassandra. Please introduce us to your family.
Together, my husband Ed and I have a total of five kids: TJ, 11; Edwin, 11; Kaya, 9; Ellie, 9; and Alice, 3. Edwin and Ellie are Ed's kids. TJ and Kaya are mine, and Alice is our daughter together.
We'll be celebrating our fifth anniversary with a vow renewal ceremony in Las Vegas this February. In total, we've been together six years.
What are some of the biggest challenges of blended family life?
Scheduling! Getting seven people where they need to be is itself a logistics beast. Having to coordinate a schedule with another family, who have their own agendas as well? Jeez, it often takes weeks of emails to agree. Parenting by committee is also challenging. Married parents have differences of opinions already, and then you have to work with a second co-parenting family too? It's frustrating trying to find consensus about disciplining, finances, healthcare and activities. For the most part, the co-parents are on the same page about the big stuff. Small issues can become big issues quickly, though. It's a trick knowing when to let an issue go, or when to stand our ground.
What's the best thing about being part of a blended family?
Ed loves the "happy reunions" we experience every week. Each Wednesday, Edwin and Ellie come home and we get that awesome "yay, we got the band back together" moment. Kids are easy to take for granted, and this keeps our times together precious. As for me, it's seems corny, but there's more to love. I love Edwin and Ellie as if they were my own flesh and blood, and Ed loves my children as his own too. Then there's Alice, who is a little bit of all of us. All the great parts of parenthood magnified by five!
How do you deal with stress with so many young kids in your house?
First and foremost, we actually deal with it. We learned the hard way not to hide our heads in the sand when an issue comes up. If we need to talk about it, we talk about it. If we need to fight about it, we fight about it. Same deal with the kids. Some days they need support, other days it's discipline. An important component of our parenting balance is that we get an equal say for all of the kids. I make as many decisions for Edwin and Ellie as I do for TJ and Kaya. There is no "step" status in our home. All kids have to listen both of us. No one gets special treatment. They are unique, so our strategies with each of them reflect their individual needs, but overall, they get equal access to resources, privileges and disciplines. I think this is vital to a blended family's harmony.
What makes you proudest of your family?
Besides having the five most fantastic people in the world as our kids? We are proud of how our children get along, and take care of each other. There is very little fighting or negativity between them. They have fun together, and are the best of friends, as well as step-siblings. Even little Alice jumps into the fray and add her own personality to the mix. Our house is bursting with laughter and love. We both came out of rocky marriages, so we're happy we were able to build something beautiful and sacred from the remnants of our former selves. We are incredibly proud of this evolution of our lives.
What advice do you have for other blended families who are struggling to keep the peace in their homes?
When tensions flare, my husband always says, "we live in our frame, not anyone else's." He means our life belongs to us, and should reflect our goals and desires, and not be dictated by an opposing agenda for someone outside. Do what works best for your family, even if it's completely different than what the books say, or what your best friend did, or what your therapist said. It's your life, your family, and your path to make. We have to honor the needs of the other co-parents -- that's a moral and legal imperative. But we don't need anyone's permission, approval, or blessings to live our life on our terms. The Barnharts stick together, and the road we've carved out for ourselves is far greater than the path we were "supposed" to walk.
PHOTO GALLERY
Meet Cassandra And Ed's Family
Keep in touch! Check out HuffPost Divorce on Facebook and Twitter. Sign up for our newsletter here.
BEFORE YOU GO
PHOTO GALLERY
Blended Family Friday