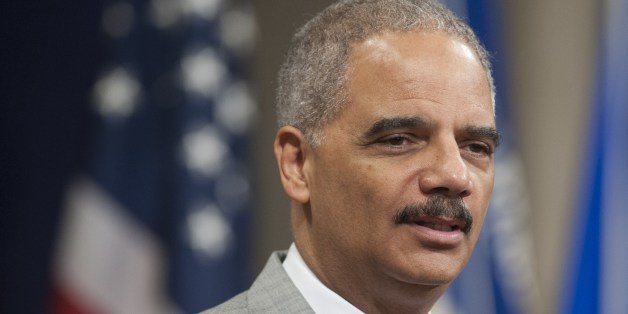 FERGUSON, Mo. — Attorney General Eric Holder on Thursday spoke with the parents of Michael Brown, an unarmed teenager killed Saturday by a police officer in this St. Louis suburb, The Huffington Post has learned.
Holder, who also issued a statement on the shooting and ensuing protests in Ferguson, promised the family a full and independent investigation, according to a person briefed on the matter.
A lawyer representing Brown's family told CNN Thursday afternoon that he and the family had met with officers from the Justice Department's Community Relations Service, a secretive peacekeeping arm of DOJ that helps soothe tensions in communities across the country. Attorney Anthony Gray said the family felt "way more comfortable" after the meeting, which took place at the U.S. Attorney's Office. The phone call with Holder took place there as well.
In his Thursday statement, Holder said he was "deeply concerned that the deployment of military equipment and vehicles sends a conflicting message" to the community.
"At my direction, Department officials have conveyed these concerns to local authorities. Also at my direction, the Department is offering – through our COPS office and Office of Justice Programs – technical assistance to local authorities in order to help conduct crowd control and maintain public safety without relying on unnecessarily extreme displays of force. The local authorities in Missouri have accepted this offer of assistance as of this afternoon," Holder said.
See updates on the situation in Ferguson below:
08/26/2014 7:49 AM EDT
The Toll On Michael Brown's Family
USA Today's Yamiche Alcindor provides an intimate look at how Michael Brown's parents have been dealing with the loss of their son:
Phones constantly ring with reporters asking for interviews or family members offering support. Last week, as demands reached a tipping point, both parents moved into hotels to shield themselves.

In the days leading up to the funeral, Brown's mother continued to cry and spoke in whispers as she tried to explain her feelings.

"They say tomorrow is going to be the hardest day, but I think today was — just seeing my baby laying there, cold," Lesley McSpadden, 34, told USA TODAY. "It did something to my heart. It's too much. It's too much."