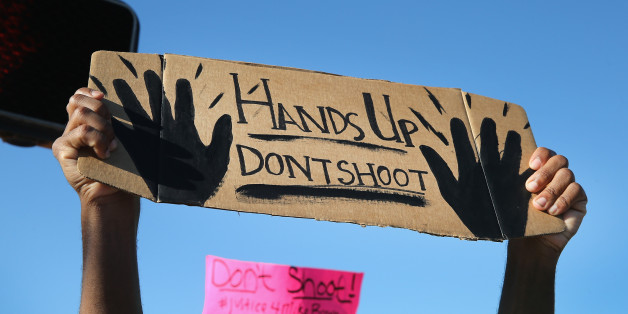 Initial reaction to the Ferguson Missouri shooting divides along partisan and racial lines. All southern state migration trends are not created equal. And if crowdfunding worked for potato salad, maybe it'll work for pollsters. This is HuffPollster for Thursday, August 14, 2014.
LITTLE TRUST IN JUSTICE SYSTEM'S HANDLING OF KILLINGS BY POLICE - HuffPollster: "Nearly half of Americans don't trust that justice will be served after police officers kill civilians, according to a HuffPost/YouGov poll conducted days after unarmed teenager Michael Brown was fatally shot by police in Ferguson, Missouri. Forty-five percent of Americans say they don't trust the justice system to investigate police shootings properly, while 37 percent do. The remaining 19 percent are undecided. Separately, 43 percent said the police use lethal force too frequently, while 32 percent said they do not. Responses were divided starkly along partisan and racial lines. Democrats were nearly three times more likely than Republicans to think lethal force is used too frequently and to distrust the justice system. Sixty-nine percent of black Americans think the police use lethal force too frequently, compared with just 37 percent of white Americans, and two thirds of blacks don't trust the justice system to investigate police killings, compared with 40 percent of whites." [HuffPost]
Not a new issue - Polls taken after earlier riots showed similar concerns about racial equality and the justice system. From 1992:
-Robin Toner: "Most Americans view the riots in Los Angeles as a 'warning' about the state of race relations, and say it is time for a new emphasis on the problems of minorities and the cities, according to the latest New York Times/CBS News Poll…. in general, the survey seemed to catch Americans in a grim mood, with 53 percent of the whites and 55 percent of the blacks saying there will always be 'a lot of prejudice and discrimination' in America. Similarly, more than half of both whites and blacks predict that there will still be racial riots in American cities 25 years from now." [NYT, h/t Kristen Anderson)]
-The Washington Post: "Do blacks and other minorities receive equal treatment by the criminal justice system? Yes, said about half of all whites questioned. No, said nine out of 10 black respondents. Nor do blacks believe that they receive equal treatment at the hands of police. More than eight in 10 blacks interviewed disagreed when asked if blacks receive 'equal treatment as whites from police,' up from seven in 10 in a Post-ABC News survey conducted two years ago. Among whites, about half said police treat blacks and whites the same way, unchanged from the earlier poll. Eight in 10 blacks also said the federal government only pays attention to black concerns 'when blacks resort to violent demonstrations or riots,' a view shared by four in 10 whites." [WashPost]
HOW DEMOGRAPHIC DIFFERENCES AFFECT DEMOCRATS IN THE SOUTH - Nate Cohn: "Democrats have already made big gains in some Southern states, like Virginia and Florida. But Republicans have held firm or even made gains of their own in other states, including Texas, a state where demographic and migration trends seem as if they should be helpful to Democrats. The explanation for the varied pace of Democratic gains in the South, along with the transformation of Dixie more generally, is illustrated with census data compiled by my colleague Rob Gebeloff for The Upshot's project on migration.…Democrats were able to become competitive so quickly in states like Virginia and North Carolina because they combined a growing nonwhite share of the electorate with gains among white voters, particularly in postindustrial metropolitan areas full of Northern expats. Without additional gains among white voters, Democrats will be forced to wait a long time for the children of foreign-born residents to carry them to competitiveness in Texas, a state that Mr. Obama lost by 17 points in 2012, and where there isn't a flood of Democratic-leaning voters from New York to bail them out." [NYT]
Interactive graphic - Upshot created charts for all 50 states and the District of Columbia showing how Americans have moved between states since 1900. [NYT]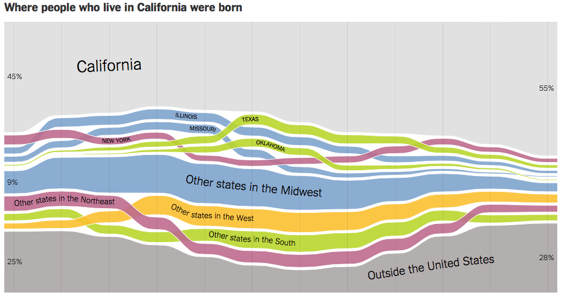 CANADIAN FIRM ATTEMPTS TO CROWDFUND MAYORAL SURVEY - Winnipeg Sun: "A Winnipeg-based polling firm is hoping locals are so interested in who's winning the mayoral race that they'll pay to find out. Probe Research has launched a 'crowdfunding' campaign through the website Indiegogo to finance a public opinion survey on Winnipeg's mayoral race. If people and organizations donate $8,000 by Aug. 27, Probe will launch a survey, with results released to sponsors by Sept. 10. It's believed to be the first attempt in Canada to finance a poll this way." [Winnipeg Sun, Indiegogo page]
OBAMA SEEN AS STRONG LEADER BY NEARLY HALF OF AMERICANS Dana Blanton: "President Obama's job rating has been underwater for over a year. Some people criticize him for exceeding his authority by going around Congress to push his policies through. Others say he is getting little accomplished because of a lack of leadership and willingness to compromise. Well, which is it? The latest Fox News national poll finds that Americans are more likely to think Obama falls in the just-do-it category than the do-nothing camp. Obama is a "strong leader who does what it takes to get his policies enacted," say 47 percent of voters. Compare that to 39 percent who say he is a "weak leader who doesn't seem to do much of anything." Most Democrats say Obama does what it takes, while most Republicans say he can't get the job done. Still, 20 percent of Republicans (one in five) describe Obama as a leader who does what it takes to push his policies through...Meanwhile, 52 percent of voters see the president as engaged and "on top of things" vs. 44 percent who think Obama is disengaged and "already checked out." [Fox]
ANOTHER NEW POLLSTER CHART FEATURE - We've added another small but hopefully useful feature to the HuffPost Pollster charts: The "create your own" view of each chart now allows users to filter polls on the basis of partisanship of the sponsor or pollster. We created three mutually exclusive categories: entirely non-partisan polls; polls with a partisan sponsor like a political campaign, party committee or political action committee; and polls conducted by partisan pollsters (defined as pollsters frequently hired by campaigns or campaign committees) but without partisan sponsorship.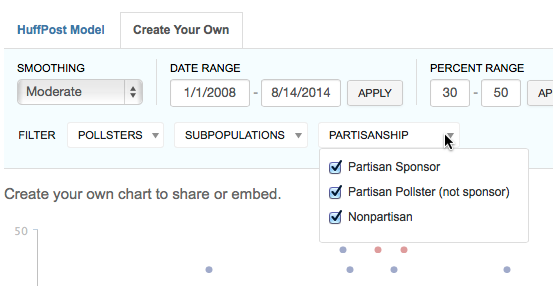 HUFFPOLLSTER VIA EMAIL! - You can receive this daily update every weekday via email! Just click here, enter your email address, and and click "sign up." That's all there is to it (and you can unsubscribe anytime).
THURSDAY'S 'OUTLIERS' - Links to the best of news at the intersection of polling, politics and political data:
-A poll for the libertarian Reason Foundation finds that Americans think President Obama has overreached in expanding executive powers. [Reason]
-With more than two years until the 2016 elections, Hillary Clinton still leads in matchups against GOP politicians, but by a few points less than previously. Pollster shorthand rating: "±" [Marist, shorthand explanation]
-Josh Barro looks at Rhode Island, America's "least polarized" state. [NYT]
-American parents' concern about school safety nearly back to pre-Sandy Hook levels [Gallup]
-Kim Yi Dionne examines research about how police respond to African American protests [WashPost]
-Dan Keating, Emily M. Badger and Kennedy Elliott compare the demographics of city residents and the police forces protecting them [WashPost]
-Three British academics launch a forecasting site dedicated to the 2015 UK Parliamentary Elections. [ElectionForecast]
-Iowa's State Fair kernel poll renders its verdict. [@JNSmall]
-One bad kernel poll pun leads to another...and another. [@aedwardslevy, @POLITICO_Steve, @aedwardslevy]