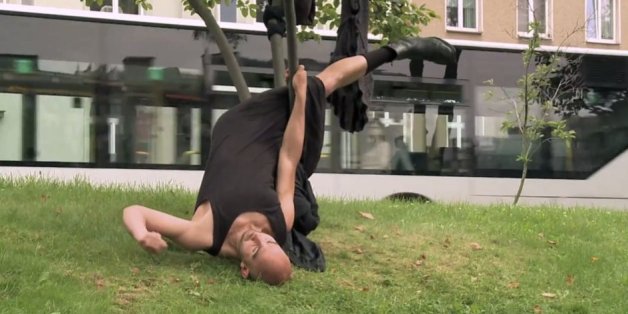 Have you ever been going about your business, meandering around your urban environment of choice, when suddenly your shirt gets caught on a rogue pole or similarly treacherous doodad? Suddenly your fate becomes indeterminate, as your thrown off balance and catapulted through the air, until you catch your footing and once again order is restored to the universe.
You know that feeling? Angie Hiesl and Roland Kaiser know that feeling.
DRESSING THE CITY AND MY HEAD IS A SHIRT - city intervention by Angie Hiesl + Roland Kaiser from Angie Hiesl on Vimeo.
The two enlisted 10 fellow performance artists for their short video "Dressing The City And My Head Is A Shirt," a "city intervention" that explores the intersection of bodies, clothing and urban spaces. The piece falls somewhere between an avant-garde performance and a playful YouTube romp, as international artists bend, twist, jump and otherwise contort their bodies in ways we never predicted, all the while incorporating their garb in the act.
The video, released in 2012 but experiencing a recent online moment, explores the limits and possibilities of movement and restraint. In what ways do our clothes restrict our bodies and in what ways do they liberate them? How are we shackled to the city and how does our city set us free? The video above may dance around the questions, but we have a feeling that's the point.
Check out the urban intervention above and see some choice still shots below.
BEFORE YOU GO