Though we'd never really thought of it before, the process of creating the perfect spam email truly is an art. The junk messages arrive in your Inbox, ready to shower you with riches while making you feel like a saint, thanks to a long-winded, carefully crafted character and exposition. Spam emails, in reality, are happy-go-lucky fairy tales for the contemporary age.
Photographer Cristina de Middel became fascinated with this particular form of internet garbage, the kind so many deliver straight to the digital trash bin. From a young woman looking to marry so that she can inherit her family fortune -- there's a marriage clause -- to an African attorney who's stumbled upon an account and wants to share, the fabricated email senders are brilliantly constructed, each and every one. If they're not brilliant for what they say themselves, then they certainly are for what they say about us, the readers.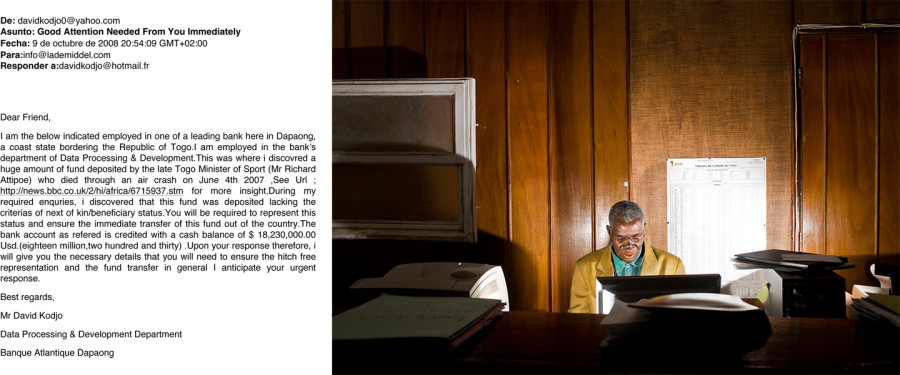 "All of them have been entering my Inbox for the last year, telling me incredible stories they describe with all the details I need to realize that their situation is definitely dramatic and that they truly need my help," de Middel explains in her artist statement. "By trying to awaken both my mercy and my greed, they offer me the perfect business: cleaning my conscience and my financial situation at the time."
In 2009, de Middel resolved to indulge her fascination with spam emails asking for money, by creating images of their mythical senders. Using photography's inherent (yet dubious) ties to truth, de Middel created portraits of the fake email senders. Based on details parsed from the messages themselves, as well as some imagination, de Middel brings the banker in the Republic of Togo and the clairvoyant Tarot reader to life in startlingly realistic detail.
"The series 'Poly-Spam' aims to build the robotic portrait of the senders, taking every single detail specified and translating it into images with special care in the dramatic ambient of the specific moment in which the mail was sent," de Middel explains. "I certify the existence of something too good to be true, I create impossible documents based on pure lies."
See de Middel's stunning handiwork below, with the original emails on the left and the images on the right. Let us know if you'll spend a moment pondering the potential sender of your next spam email before you drag it to the trash.
BEFORE YOU GO
PHOTO GALLERY
Modern Art Cookbook