"In the wake of the global growth of interest in art in the streets, one form of tourism that may soon be blowing up could be graffiti excursions, street art sightseeing, [and] mural journeying," Brooklyn Street Art's Jaime Rojo and Steven Harrington recently declared.
If you are one of the many street art and graffiti enthusiasts who couldn't imagine a vacation sweeter than galavanting around alleyways and empty buildings, searching for that great piece of urban art, we have the perfect map for you. We've compiled a list of our favorite street art masterpieces in New York City -- thanks in large part to BSA's experts Rojo and Harrington, who walked us through some of their favorite locales to ogle wheatepastes and aerosol designs, from the Bronx to Coney Island.
We added some of our own favorites, and voila! A pocket map for exploring street art in New York City:
Brooklyn
A. Coney Island's Os Gemeos Mural: Check out this locale for a dose of Os Gemeos, the Brazilian twins who've been in the street art game since the 1980s. (Location: Stillwell Avenue across the street from the subway station)
B. Red Hook's Swoon Mural: If you love the wheatepastes of Caledonia Dance Curry, aka Swoon, this spot is for you. (Location: Pioneer Street and Conover Street)
C. DUMBO Walls: Big names like CAM, DALeast, Eltono, Shepard Fairey, Faith47, MOMO, Stefan Sagmeister, and Yuko Shimizu populate the DUMBO Walls, a stretch of eight murals sponsored by DUMBO Improvement District and Two Trees Management Co, along with the New York City Department of Transportation Urban Art Program (NYCDOT) and the Jonathan LeVine Gallery. (Location: Multiple locations, see them all here)
D. Bushwick Collective: Bushwick is generally a great place for street art tourism. But the best place to start is the Bushwick Collective, a self-described outdoor street art gallery of artists from around the world. (Location: Troutman Street at Saint Nicholas Avenue)
E. Moore Street: After taking in the beauty of Troutman Street, head a few blocks away to Moore Street for more Bushwick graffiti. (Location: Moore Street between Seigel Street and White Street)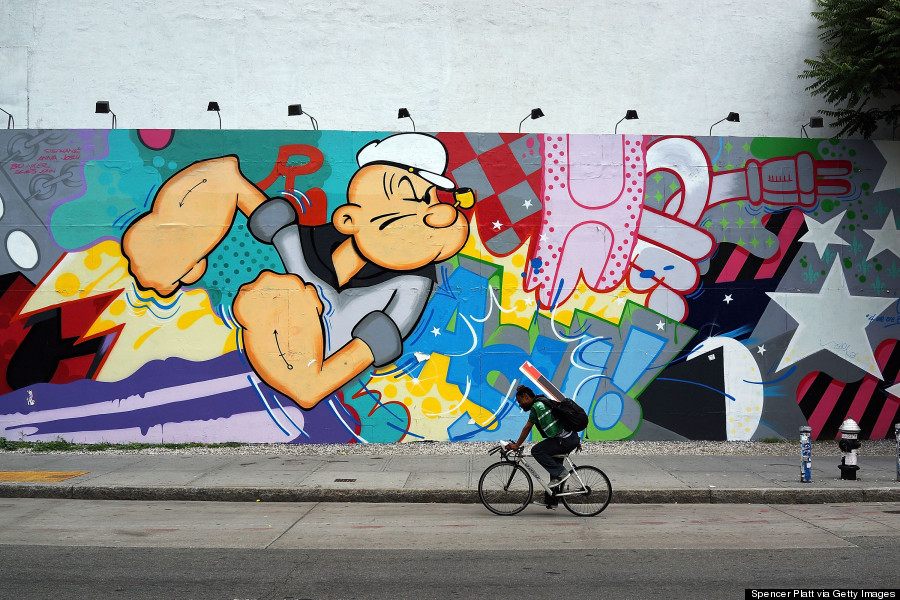 A work of street art on the famed Houston Street wall by artist John Matos on June 6, 2013 in New York City. (Photo by Spencer Platt/Getty Images)
F. East Williamsburg: "A collection of mostly large scale murals by street and graffiti artists from all over the world," says Rojo and Harrington. (Location: Between Grand Street and Meserole Street and Bushwick Avenue and Morgan Avenue)
G. Kent Avenue If you've been outside the Domino Factory lately, you'll have noticed a few murals flanking Kent Avenue. This summer, the "Past Present Prediction" mural -- organized by the non-profit El Puente and its artist collective Los Muralistas -- is honoring the history of the neighborhood. (Location: Kent Avenue and Grand Street)
H. Wythe Avenue: This is the perfect spot to see smaller, traditional graffiti works scattered in plain view. (Location: Wythe Avenue and North 15th Street)
Bronx:
I. Los Muros Hablan: From Spanish Harlem to the South Bronx, Los Muros Hablan transforms abandoned spaces in the city into works of art. (Location: Multiple locations, see them all here)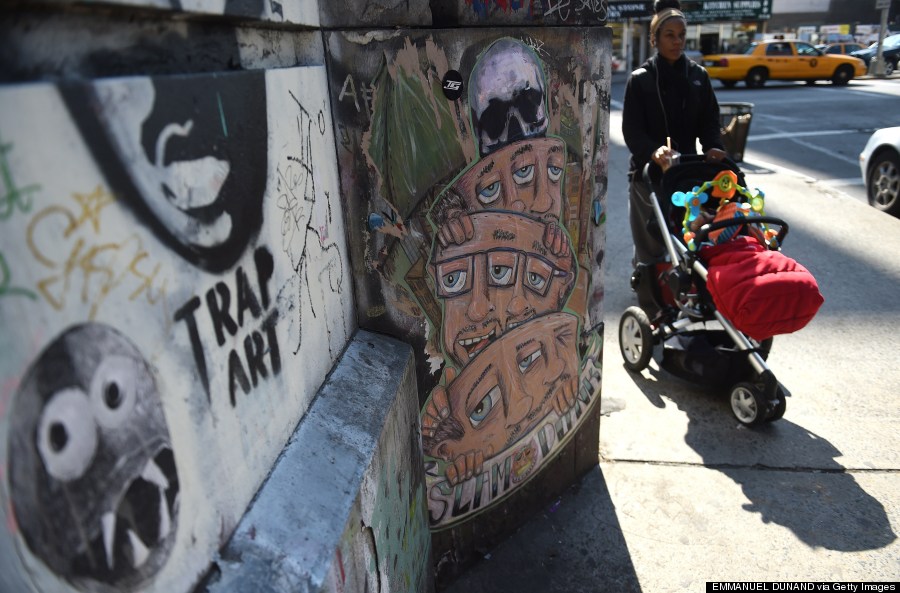 People walk by street graffti in New York on April 25, 2014. (EMMANUEL DUNAND/AFP/Getty Images)
J. Hunt's Point: This 200-foot long mural is run by TATS CRU. This is a must-see mecca. (Location: Spofford Avenue & Drake Street)
K. Tuff City: This tattoo parlor is a popular spot for taggers. Like the traditional tattoo work done inside, the designs tend to veer into traditional graffiti as well. (Location: 650 Fordham Road)
Manhattan:
L. The L.I.S.A. Project: Located in Little Italy, this collection of small and large murals is supported by local businesses in the area. (Location: Between Canal and Grand Streets)
M. Cortlandt Alley: This popular music video spot plays home to an elevator museum and a collection of small tags amassed over the past few decades. While it's not the most colorful spot for contemporary street art, if you're in the neighborhood, it's worth checking out. (Location: Between Broadway and Lafayette Street)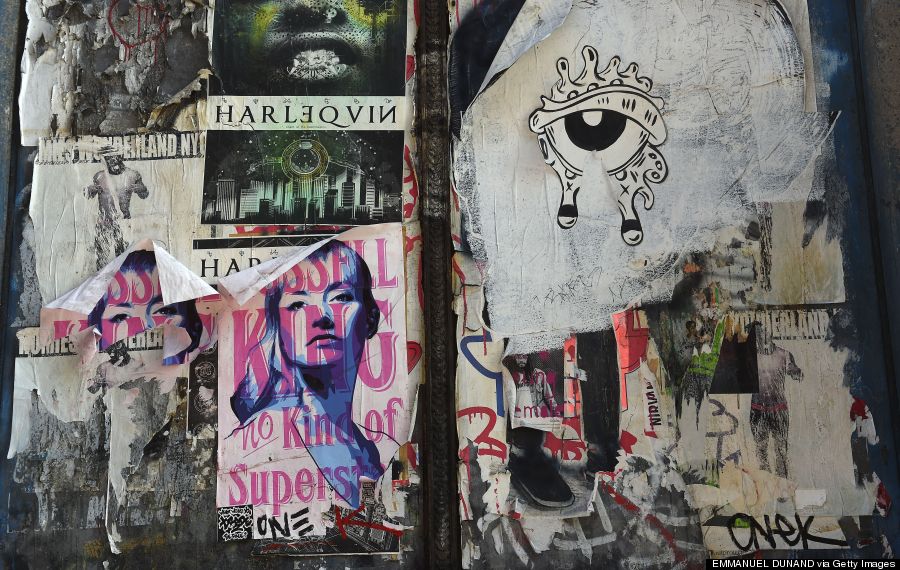 Street graffiti adorn a wall in New York on April 25, 2014. (EMMANUEL DUNAND/AFP/Getty Images)
N. L'asso: Grab a slice and see some street art. This pizzeria is graffiti-friendly. (Location: 192 Mott Street)
O. 190 Bowery: "What we call a magnet wall," Rojo and Harrington explained. "The facade of the Jay Maisel Building gets constantly hit by street artists." (Location: 190 Bowery)
P. Freeman Alley: Another alley, another place to see street art. The walls beg for tags, and then you can grab a cocktail at Freemans Restaurant. It's a win-win. (Location: 8 Rivington Street)
Q. Centre-Fuge Public Art Project: This is a rotating outdoor gallery at the corner of 1st and 1st. What more could you want? (Location: 1st Street and 1st Avenue)
R. Houston Bowery Wall: From Keith Haring to Maya Hayuk, this wall is a constantly changing canvas. (Location: East Houston Street and Bowery)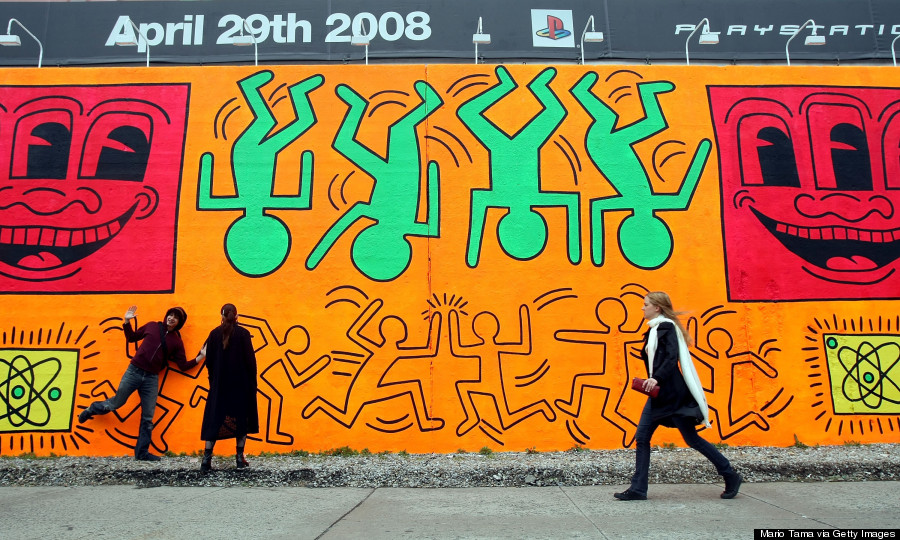 People walk by a re-creation of an untitled mural painted by artist Keith Haring on the corner of Houston Street and Bowery in Manhattan May 2, 2008 in New York City. (Photo by Mario Tama/Getty Images)
S. Graffiti Wall of Fame: This is an "iconic shrine," according to BSA. It's a great taste of the amazing street art in Harlem. (Location: Park Avenue and 106th Street)
T. Keith Haring Mural in Harlem: It's the famous "Crack is Wack" mural. If you call yourself a street art fan, this is your temple. (2nd Avenue and 128th Street)
U. Freedom Tunnel: This is the Amtrak tunnel under Riverside Park in Manhattan, New York City. It's a street art destination for the more adventurous spirits -- specifically those who are willing to go underground. (Location: Riverside Park)
Queens:
V. Welling Court Murals: Murals stretch for blocks and blocks here. Without 5 Pointz, this is the place to street art in Queens. (Location: Start at 30th Avenue and Welling Court)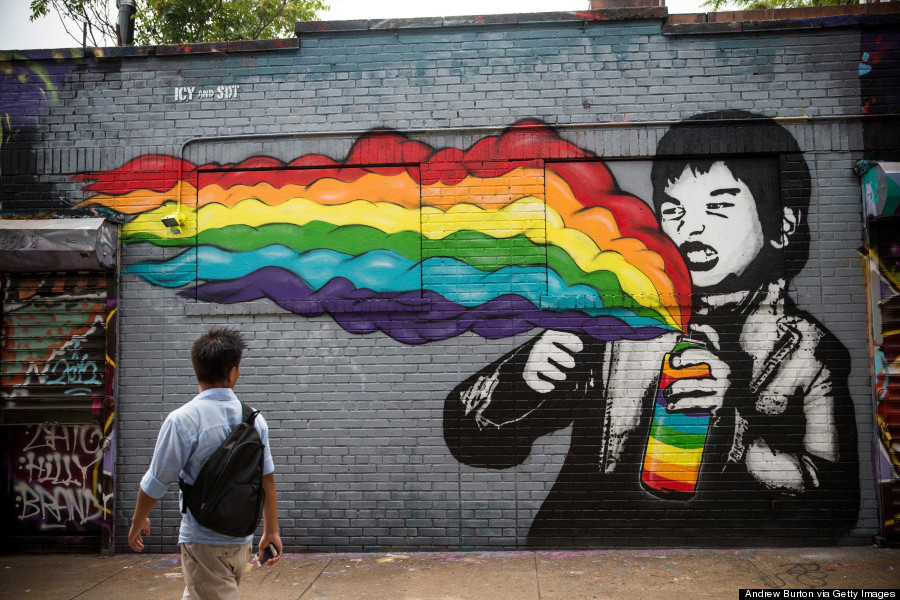 A man walks past a mural painted on the '5 Pointz' building on August 9, 2013 in the Long Island City neighborhood of the Queens borough of New York City. (Photo by Andrew Burton/Getty Images)
For more on Brooklyn Street Art, check out their past blogs on The Huffington Post and their beautifully curated website dedicated to street art here.
BEFORE YOU GO
PHOTO GALLERY
Outdoor Gallery by Yoav Litvin