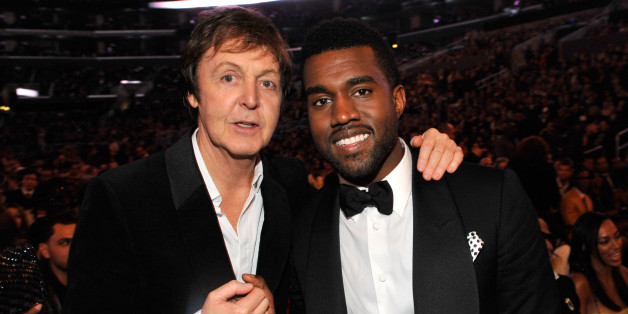 According to the New York Post, Paul McCartney and Kanye West just might be recording music together. Sources reportedly tell Page Six that they have been secretly working on a number of tracks, one allegedly titled "Piss on My Grave," and that they "could develop into an album."
This story comes just a few days after the Daily Mail quoted sources saying West was hoping to feature McCartney on his follow-up to "Yeezus," which is due out sometime later this year. That report indicates West has been "tapping Macca up for a while about working together." The rapper was also in attendance at McCartney's Los Angeles show at Dodger's Stadium this past week.
HuffPost Entertainment reached out to West's and McCartney's reps, the latter's declining to comment. Despite the lack of confirmation, this may not be too much of a stretch, as McCartney previously expressed interest in collaborating with a hip-hop artist like Jay Z or Kanye.
UPDATE -- 12:55 pm: A rep for Kanye West declined to comment on the reported collaboration between West and McCartney, but clarified that West is indeed working on a song entitled "Piss On Your Grave," not "Piss On My Grave," as originally reported by the New York Post.
BEFORE YOU GO
PHOTO GALLERY
Top 10 Beatles fan destinations around the world