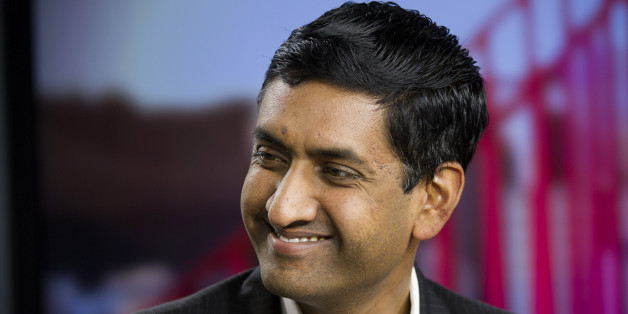 Ro Khanna (D) received a key endorsement on Friday from San Jose, California, Mayor Chuck Reed (D) in his bid to unseat Rep. Mike Honda (D-Calif.).
"I am happy to endorse Ro Khanna because his pro economic growth and fiscally responsible policies will help create good paying jobs for middle class families in the Bay Area and are right for Silicon Valley," Reed said in a statement posted on Khanna's campaign website.
Reed elaborated on his endorsement of Khanna in comments published by the San Jose Mercury News.
"Our Silicon Valley team in Washington would be greatly strengthened if we add Ro Khanna," Reed said, adding later that he feels "we need to step up our game in Washington" and noting his endorsement of Khanna over Honda is "nothing personal."
San Jose is known as the "capital of Silicon Valley" and is a major hub for technology companies. The technology industry has been a vastly important constituency for Khanna.
Khanna, a former official in President Barack Obama's Commerce Department, tweeted his pleasure with the endorsement:
San Jose Mayor Chuck Reed is an American hero, and I am honored to have his endorsement http://t.co/U6TSFJhLQ6 #CA17

-- Ro Khanna (@RoKhannaUSA) August 17, 2014
Honda's campaign communications director, Vivek Kembaiyan, scoffed at the endorsement, saying in comments published by the San Jose Mercury News that "Reed may call himself a Democrat, but his track record of pushing to overhaul unions, oppose gay marriage, block minimum wage increases and eliminate limits on campaign contribution suggest otherwise."
"Reed's endorsement of Khanna is just further reflection of his conservative values," he added.
The race between the corporate-aligned Khanna and the progressive-backed Honda has been fraught with mud-slinging on a variety of issues ranging from campaign finance to the use of racial politics.
Khanna and Honda were the top two vote-getters in the June open primary, and they will face off against each other in November.
BEFORE YOU GO
PHOTO GALLERY
2014 Election: $500,000-Plus Super PAC Donors