In the week since Robin Williams' passing, it has emerged that this beloved actor's skills stretched far beyond the big screen.
Perhaps one of his greatest yet least-known talents was his ability to bring light to complete strangers who were facing their darkest days.
When Vivian Waller, 21, was diagnosed with bowel cancer, which has spread to her liver and lungs, she devised a bucket list to bring some meaning and joy to her final days. In addition to getting married and celebrating her daughter Sophie's 1st birthday, she dreamed of meeting Robin Williams, New Zealand's Sunday Star Times reported.
Since Waller is now living in a hospice in Auckland and was too weak to travel to meet the "Patch Adams" star, the acclaimed comedian brought his signature mix of humor and empathy to her via a video message.
The message was short and perfectly sweet:
"Hi Vivian ... it's Robin Williams here saying, 'Hey girl what's going on down there in New Zealand,'" the actor says in the video above. "I'm sending all my love to you, Jack and Sophie ... knock this off your bucket list."
He then concluded by singing a song, which was his way of "channeling Matthew McConaughey."
Vivian's husband, Jack, wanted to share this intimate moment with the world because, "we love [Williams], we want to show people how awesome a person he was," he told the news outlet.
Turns out, Waller was one of a number of people diagnosed with grave conditions that Williams quietly supported, away from the limelight, in order to boost their spirits.
Back in 2004, when Jessica Cole was dying from brain cancer, Williams had arranged through the Make-A-Wish Foundation for the little girl to meet him in California. But when she grew too weak to travel, the committed actor chartered a private plane to her home in Greensboro, North Carolina, so that the two could spend the day playing cards and watching football, WFMY News reported.
Williams also made a lasting impact on Rudy Garcia-Tolson who had both legs amputated above the knee when he was 5 years old, Jenna Novotny, Challenged Athletes Foundation senior marketing manager, told HuffPost via email.
The actor met Garcia-Tolson when he was 10 years old and the two completed their first relay triathlon in 1998 with the Challenged Athletes Foundation. The pair continued racing together afterwards, and Garcia-Tolson, now 25, has since gone on to win two Paralympic gold medals and was the first double above-knee amputee to complete an Ironman triathlon.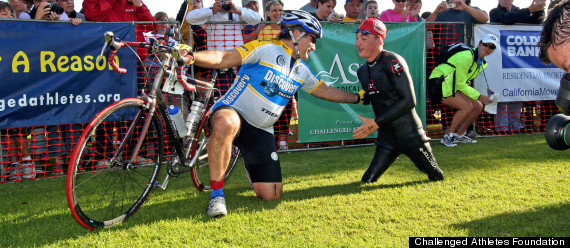 The determined athlete credits much of his success to Williams' constant support.
"You showed not only me, but the whole world, that it's okay to be different -- and that the power of humor can change lives," Garcia-Tolson wrote in a statement on his website. "I can never thank you enough for going out of your way to make me smile. Thank you for making me the luckiest kid alive. Thank you for being a heck of a friend."
While Vivian Waller is no longer accepting conventional treatment, she is raising funds for her daughter, Sophie's future and her own medical and natural therapy costs. Find out more about her campaign and how you can get involved here.
BEFORE YOU GO
PHOTO GALLERY
Robin Williams Quotes