One little girl's love of horse drawings led her family on an incredible journey of human generosity.
Alexus Lasiter, who goes by Lex, has cerebral palsy, a seizure disorder, heart trouble and kidney problems, according to Today.com. A few weeks ago, frequent trips to the hospital had the 7-year-old feeling down. To cheer her up, her mother, Wathena Sievert, decided to combine two of Lex's favorite things -- horses and getting mail.
Sievert contacted an art student who participated in a Facebook group that her husband runs. Sievert asked Travis Barker of Lakeland, Florida, if she could pay him to draw a picture of a horse and send it to her daughter, Barker told The Huffington Post via email.
Barker offered to do the picture for free, and then recruited about 30 of his friends to do the same, creating the Horses for Lex Facebook page.
Over the next few weeks, the Facebook page grew to more than 2,000 likes and people from all over the world decided to join in. Lex's mailbox has been flooded by drawings, paintings and sketches from across the country, as well as Australia and England, according to Grand Lake News.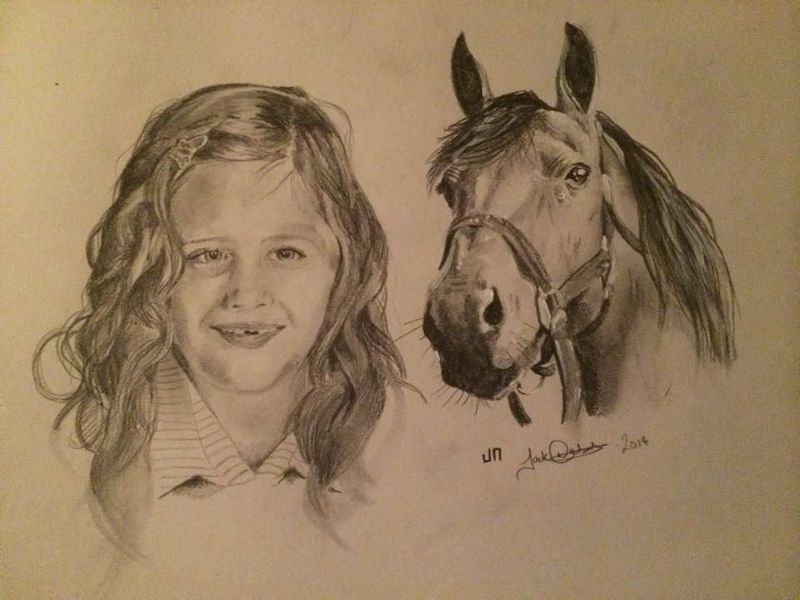 "It's been good to see other people take initiative and do something kind for someone else," Barker told the outlet. "It's been really rewarding to me."
It was while managing the Horses for Lex Facebook page that Barker was contacted by Becky Anne Ross, a Florida woman who owns a rescue horse named Snickerdoodle. To the delight of everyone involved, Ross offered to give the horse to Lex.
Snickerdoodle, who was previously abused, has experience working with kids with cerebral palsy. Lex has done some physical therapy with horses before and riding will help her build strength, according to Today.com.
"Their relationship is going to help strengthen her physically, and what parent wouldn't hope for that?" Ross told the outlet. "I just think it's going to be awesome all the way around."
The family, deciding to keep it a secret, took a road trip to Florida for what Lex thought was just an opportunity to ride the horse.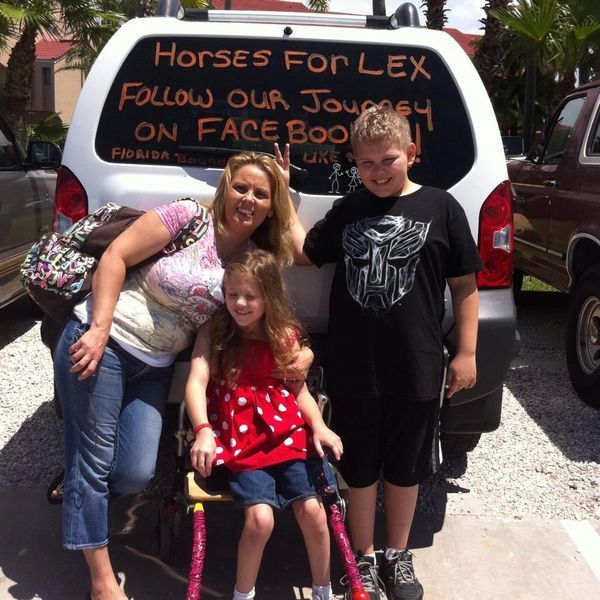 Then, last Thursday night, Ross broke the exciting news to the child that Snickerdoodle would eventually being going home with her, according to ABC Action News.
"Seeing the look on her face and knowing that she was going to be able to bring it home," Sievert told the outlet. "It's just unbelievable."
Here are some photos from the night Snickerdoodle and Lex met for the first time:

PHOTO GALLERY
Horses For Lex
Unfortunately, the organization that originally volunteered to transport the horse back to Oklahoma was unable to do so and the family had to raise money to cover the costs. However, in just nine hours, the fundraising page that Barker set up received more than $2,000 -- more than the amount needed to cover the cost of Snickerdoodle's transportation. People are still continuing to donate, and the remaining funds will go towards Snickerdoodle's food and care in the future.
"Lex is a wonderful smart little girl with the heart of a fighter. She doesn't let anything slow her down," Barker told The Huffington Post in an email. "I think that it is her innocence, pure joy and love of life that captures the heart of everyone that knows her or that hears of her."
To make a donation to Lex, visit the GoFundMe page.

BEFORE YOU GO
PHOTO GALLERY
Miniature Horses