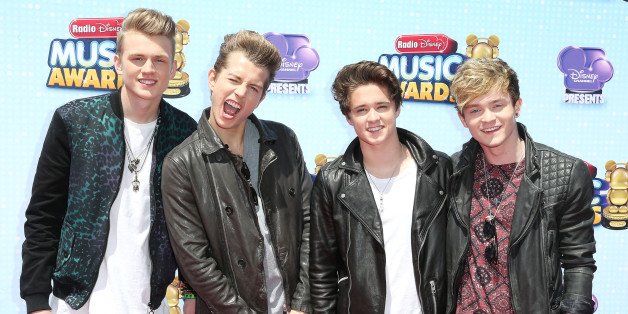 A few years ago, Brad Simpson, James McVey, Connor Ball and Tristan Evans of The Vamps were just average guys from the UK, uploading their videos to YouTube and hoping to be noticed for their unique renditions of popular songs. Fast-forward to now, these guys are on tour with Austin Mahone and Fifth Harmony, recording duets with Demi Lovato and releasing their new EP, "Somebody to You."
The boys of the Vamps definitely have a lot going on, so we were psyched to get the chance to talk with Brad in an exclusive interview. He opened up about upcoming projects, his role models in the music industry and what sets The Vamps apart from other similar groups.

We hear that you guys have an upcoming project with AwesomenessTV that sounds really cool. What can we expect? [Scroll down below to see the trailer to the series and the Vamps' first episode.]
Lots of funny little things. It's basically just what we're filming on the Austin Mahone tour. So far we've got a few different videos that we're going to put out. It's just fun things that we do on tour. It's just us being weird and hopefully people like it! They probably won't [laughs].
What has surprised you the most about touring with Austin [Mahone] and Fifth Harmony? And what has been the most fun?
The whole thing has been awesome, actually. The shows have been really, really good so far. Austin's a legend and Fifth Harmony are lovely girls, so it's very nice to be on tour with them. It's just nice to be in America because obviously we've done a lot of touring in the UK and we've never actually done anything in North America. It's a bit of an exciting prospect to be doing stuff across the U.S.
Your EP, "Somebody to You," came out on August 4. If you could describe it in one word, which word would you use?

One word... ah, I don't know. I'm gonna say "awesome."
And you guys have a collaboration with Demi Lovato on the EP.
We do, yeah. It's the lead track off the EP, our single called "Somebody to You," which we've been playing on this tour. And it was one of our singles back in the UK. We were working on it in the studio, and then we knew we kind of wanted a female feature and Demi was one of our first choices. The producer we were working with knew her, and so we went through him to then speak to Demi to see if she liked the track and it turns out she really liked the track. It kind of went from there really.
You guys have worked with Bruno Mars a little bit, and James posted a cover of an Ed Sheeran song recently. Who are some other people in the industry that you guys look up to?
I think Ed Sheeran is a big inspiration, just in the sense that he is just one dude, the lead guitarist, who just wrote songs and he just happened to get famous. He's done it and it's literally because of how good his songwriting is. That's nice to see, especially for us as songwriters. I think we look up to lots of bands. You can look up to anyone and say aspects that you like. You can look at a band like Kings of Leon and see how tight they are, or a lot of bands like Foo Fighters and how good they are as live performers, especially how much longevity they've got in the industry. We take a lot from as many people as we can.
You just had a birthday. How did you celebrate? And how do you guys like to spend your days off in general?
We celebrated playing golf [laughs]. Yeah, I know, very rock 'n' roll. But yeah, we played a bit of golf. It was good. To be honest, when you're on tour, it's so crazy that the last thing I wanted was a really crazy birthday party. I just wanted to kind of chill out with the rest of the band. It was really nice.
You guys do spend a lot of time together, you, James, Connor and Tristan. Do you guys ever fight about anything or argue?
We actually don't [laughs]. It's surprising to me. You'd think when we're together literally 24/7, and we've been on tour for, like, a year… but no, we don't. We're really, really tight friends.
What has been the most exciting moment of your career in the spotlight so far, if you can pick one?
I think playing at Wembley Stadium in the UK was amazing. That was awesome. And coming over here and releasing music for the first time -- just to be over here in North America and playing shows and releasing music. I don't think we realize it yet, but that'll be one of the biggest things that happens to us as a band.
Are you guys ever compared to other similar groups? And what's your reaction to that when it does happen?
Obviously we get compared. I think the obvious comparison that happens is, like, One Direction and all ... but I think we're very, very different in the sense that we're a live band and we pride ourselves on playing our instruments and writing our music. You can have a boy band that's a vocal group or you can have a band which is what we are, so I think they're very different.
What is the craziest thing a fan has ever done for you?
Uh, we were in a hotel in Manchester and we usually leave the hotel door unlatched because we go in and out of each others' rooms. And Connor and James were sharing a room and then a load of fans walked into it. Like, walked into their room and they were semi-naked. They were just kind of in boxer shorts. So, that was pretty crazy [laughs].
What is the most embarrassing moment you've ever had onstage?
I popped my lip open the other day, so I was bleeding onstage. Yeah, that was funny. And then Connor has also fallen off the stage. So, it's basically us just messing up.
What is your favorite song to cover?
We do a cover of "Trumpets" by Jason Derulo, which is really fun.
What is one goal or one dream that you could project to accomplish in the next year or so?
I think being able to gain an amount of success to an extent in America would be the dream -- being able to come out here and play lots of shows one day. If we could do it in the next year, that would be incredible. So I think that would be a bit of a dream and a goal as a band.
Follow HuffPost Teen on
Twitter |
Instagram |
Tumblr |
Pheed |
BEFORE YOU GO
PHOTO GALLERY
Radio Disney Awards Red Carpet