A family ripped apart by the 2004 Indian Ocean Tsunami was reunited Monday for the first time in a decade, thanks to a chance encounter in June which led them to their missing daughter, who, in turn, helped the family find their missing son.
Arif Pratama Rangkuti and his younger sister, Raudhatul Jannah, were swept from their parents' arms on Dec. 26, 2004, in the massive Indian Ocean Tsunami, which killed more than 230,000 people across Southeast Asia.
Arif, just 7 at the time, and Jannah, 4, were separated from their parents, Septi Rangkuti and his wife, Jamaliah, who told Deutsche Presse-Agentur they searched for their children for a month before giving up hope.
Yet hope came again in June of this year, when an uncle saw a girl who looked similar to Jannah in a nearby village. Further inquiry revealed the girl, who had been rescued by a fisherman after the tsunami and had lived with his mother ever since, was indeed the lost daughter. What's more, the girl -- now 14 years old -- said Arif was likely alive, as the two had been briefly stranded together on a nearby island.
The family after Jannah's reunion, before Arif's return: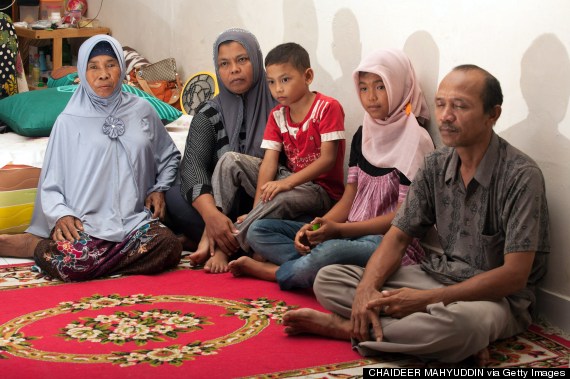 In this photograph taken Aug. 7, 2014, missing Indonesian tsunami victim Raudhatul Jannah (2nd R), aged 14, sits with mother Jamaliah (2nd L), holding youngest son Jumadi Rangkuti (C), and father Septi Rangkuti (extreme R). Joining them is Syarwani (L), the foster mother who has raised Jannah in the city of Meulaboh, Aceh province.
Jannah's emotional reunion with the family unleashed a large amount of media attention, which the family says led to the discovery of their son, who Voice of America reports had been living as a street orphan in Payakumbuh, an Indonesian province some 560 miles away from the family home in Aceh.
The entire family, together again: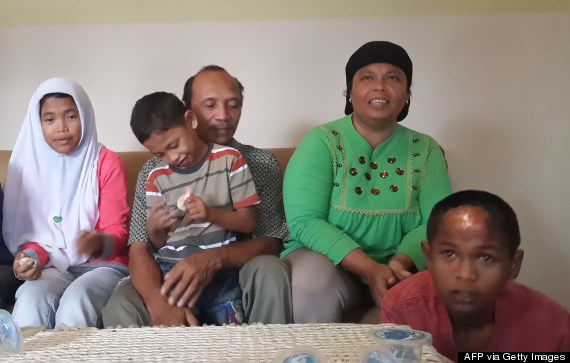 Septi Rangkuti (2nd L) holds one of his sons, Jumadi Rangkuti, next to his wife, Jamaliah (top R), and daughter, Raudhatul Jannah (L), after being reunited with his missing son, Arif Pratama Rangkuti (lower R), in Payakumbuh town on Sumatra island on Aug. 19, 2014.
According to Agence France-Press, a couple in Payakumbuh contacted the family after seeing a photo of Arif as a young boy on the news, believing a homeless teenager they let sleep in their internet cafe bore a strong resemblance to him.
When the cafe owner showed the boy, known only as "Ucok," a picture of Jamaliah, reports the Bangkok Post, he exclaimed, "That's mother!" He was unable to recall her full name, but did remember the woman went by "Liah."
In a subsequent phone conversation with his parents, the Post adds, Arif asked when they could come pick him up, which they did earlier this week.
It's unclear how Arif and his sister became separated after their initial rescue by the fisherman. According to the AFP, it's believed the fisherman didn't have the resources to provide for two more children and decided to keep Jannah.
PHOTO GALLERY
Girl Reunites With Family 10 Years After Tsunami
BEFORE YOU GO
PHOTO GALLERY
13 Awesome Animal-Human Reunions