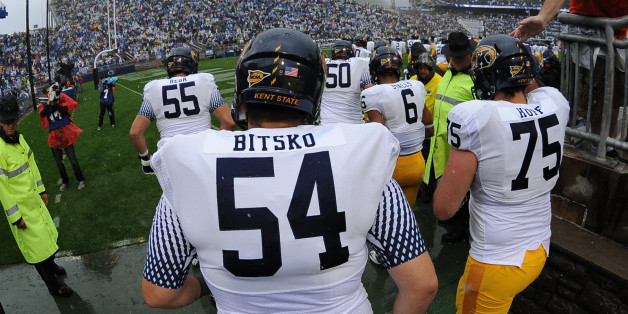 In a media release Wednesday, Kent State University announced the unexpected death of Jason Bitsko, a player on the school's football team, who was found unresponsive in his room Wednesday morning shortly before 9 a.m.
Police attribute the 21-year-old's death to an undetermined medical issue.
A university spokesperson told ABC5 Bitsko's roommate was asked to check on the player after Bitsko failed to attend the Golden Flashes' practice Wednesday morning. The roommate found Bitsko on his bed, unresponsive, and called 911.
Bitsko started all 12 games in the 2014 season, reports CBS Sports, and was set to be the team's starting center for the second year in a row.
"Kent State University and the entire Kent community mourns his passing," Joel Nielsen, Kent State's director of athletics, said in a statement. "We are heartbroken by the news of Jason's death. Our thoughts and prayers go out to his family, friends, teammates and everyone whose lives he touched."
Bitsko sent this tweet last week, days before his untimely passing:
There are 86,400 seconds in a day. Make sure you use one of those to thank god for everything you have #stayfocused

— Baby Elephant (@isthatbitsko) August 14, 2014