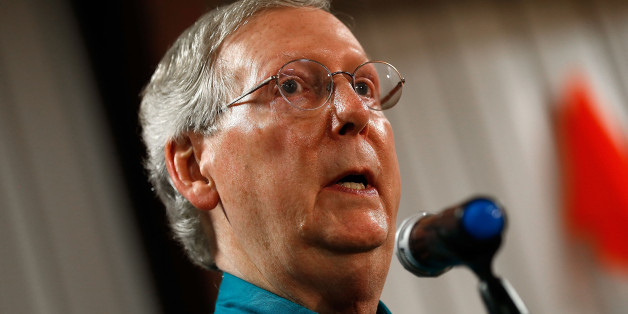 Senate Minority Leader Mitch McConnell (R-Ky.) refused to weigh in on the issue of man-made climate change in a recent interview, giving it a wide berth ahead of his re-election battle in November.
"Each side has their scientists, and they can all go in and argue," he told Politico in an interview published Wednesday, when asked if he believed humans contributed to global warming.
The Kentucky Republican spoke more directly on the matter in March, when he told the editorial board of the Cincinnati Enquirer that he didn't believe in climate change science at all. "For everybody who thinks it's warming, I can find somebody who thinks it isn't," he said.
Kentucky Secretary of State Alison Lundergan Grimes, McConnell's Democratic challenger, has maintained an even more measured tone on the issue. "I recognize the reality of climate change and the imperative of addressing its potential consequences," she told The Courier-Journal, while notably avoiding a question about whether man had some sort of impact.
In his interview with Politico, McConnell also criticized newly proposed Environmental Protection Agency rules that would cut carbon pollution from coal power plants. The regulations pose a serious threat to Kentucky's coal industry, he said.
Climate change is less of a hot-button topic in coal-rich Kentucky than it is in places like Florida, where scientists warn that a steadily rising ocean threatens the state's future. Five university climate scientists met with Florida Gov. Rick Scott (R) on Tuesday in hopes of convincing him of the perils of climate change.
BEFORE YOU GO
PHOTO GALLERY
15 Ways You Contribute To Climate Change