 The North Carolina Senate race is close. Gallup finds a racial gap in views of the police. And four political scientists argue that presidential poll swings are largely the artifacts of who chooses to respond to surveys. This is HuffPollster for Wednesday, August 20, 2014.
FIRST SUFFOLK/USA TODAY MIDTERM POLL FINDS CLOSE RACE IN NORTH CAROLINA - Susan Page: "North Carolina Sen. Kay Hagan is all but tied with Republican challenger Thom Tillis in a midterm showdown likely to help determine control of the Senate, a USA TODAY/Suffolk University poll finds. The Tar Heel State survey, which launches a series looking at key Senate and gubernatorial contests across the country this fall, shows an electorate that is feeling a bit better about the economy but decidedly negative toward politics. Voters are inclined to have an unfavorable view of each candidate and overwhelmingly disapprove of the legislative bodies in which they serve. Hagan leads Tillis, the speaker of the North Carolina General Assembly, by 45%-43%, an edge within the poll's margin of error of 4.4 percentage points. Libertarian candidate Sean Haugh could hold the balance: His supporters, 5% overall, disproportionately identify Tillis as their second choice." [USA Today, Suffolk]
Polling average shows candidates nearly tied - HuffPollster's model, including all publicly available polling, gives Hagan 42.3 percent and Tillis 41 percent, with Haugh taking 6.8 percent. [Chart]
PROFOUND RACIAL GAP IN VIEWS OF POLICE - Frank Newport: "Blacks in the U.S. have a significantly lower level of confidence in the police as an institution than do whites. Combined 2011-2014 data measuring Americans' confidence in the police shows that 59% of whites have a great deal or quite a lot of confidence in the police, compared with 37% of blacks. The police are among the three highest-rated institutions out of 17 tested in terms of whites' confidence, behind only the military and small business. Among blacks, police drop to seventh on the list, behind not only the military and small business, but also the presidency, the church or organized religion, the medical system, and television news….This racial gap in confidence in the police has been evident in the data throughout the past decade and a half that Gallup has been measuring these trends on an annual basis. Notably, this substantial racial gap is much more muted in terms of confidence in the criminal justice system. Those confidence ratings are low in general, but there is no difference between the views of blacks and whites in terms of positive confidence in the criminal justice system. Blacks are, however, somewhat more likely to say they have very little or no confidence in the justice system than are whites." [Gallup]
SUPPORT FOR AIR STRIKES IN IRAQ - Aaron Blake: "President Obama's decision to launch airstrikes in Iraq was a popular one -- especially among his biggest political adversaries, conservative Republicans. According to a new Washington Post-ABC News poll, 63 percent of conservative Republicans and 61 percent of all Republicans support Obama's decision to launch the airstrikes. By comparison, 54 percent of Democrats and 49 percent of independents also sign off on the use of force. Americans overall support the action 54 to 39 percent. But just because Obama's big decision was a popular one doesn't mean he's suddenly won a bunch of new supporters. In fact, quite the contrary. His approval rating on his handling of Iraq remains at just 42 percent -- unchanged from two months ago when the situation in northern Iraq was deteriorating quickly." [WashPost]
Largely consistent with earlier polls - A Pew Research/USA Today poll released earlier in the week and a HuffPost/YouGov poll last week also found support for the air strikes, although the HuffPost survey also found an uptick in approval for Obama's handling of the situation in Iraq. [Pew, HuffPost]
ARE VOTER SWINGS IN PRESIDENTIAL ELECTIONS A MYTH? - Andrew Gelman shares a new paper co-authored with David Rothschild, Sharad Goel and Doug Rivers: "How can election polls swing so much given the increasingly polarized nature of American politics, where switching one's support between candidates is a significant move? We investigate this question by conducting a novel panel survey of 83,283 people repeatedly polled over the last 45 days of the 2012 U.S. presidential election campaign. We find that reported swings in public opinion polls are generally not due to actual shifts in vote intention, but rather are the result of temporary periods of relatively low response rates by supporters of the reportedly slumping candidate. After correcting for this bias, we show there were nearly constant levels of support for the candidates during what appeared, based on traditional polling, to be the most volatile stretches of the campaign. Our results raise the possibility that decades of large, reported swings in public opinion — including the perennial "convention bounce" — are largely artifacts of sampling bias." [Gelman]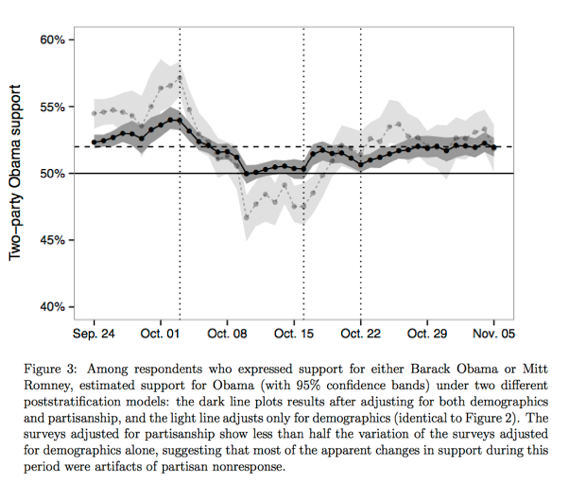 Implications for weighting by party - In a separate blog post, Gelman adds more: "From a 'methods' point of view, the key step is to poststratify by party ID....Sometimes researchers want to play it safe by using traditional methods — most notoriously, in that recent note by Michael Link, president of the American Association of Public Opinion Research, arguing against non-probability sampling on the (unsupported) grounds that such methods have 'little grounding in theory.' But in the real world of statistics, there's no such thing as a completely safe method. Adjusting for party ID might seem like a bold and risky move, but, based on the above research, it could well be riskier to not adjust." [WashPost]
'Not Quite' - Aaron Blake: "The study is an interesting one, and it's quite feasible that interpreted swings in polling do have something to do with supporters of a slumping candidate simply not responding to pollsters. That's a fair point. To say the study suggests swing voters are a myth, though, goes too far.... A presidential campaign isn't a great gauge of swing-iness....While the unrepresentative sample is one thing, the opt-in nature of the survey is perhaps more likely to skew the results. After all, those motivated to respond to polls of their own volition, we would argue, are probably more politically engaged. And more politically engaged people tend to be firmer in their convictions and candidate choices." [WashPost]
Other Reactions:
-Kevin Collins (D): "This, more than any other reason, is why list-based sampling using voter files is SO much better than RDD samples...I don't think this result from @DavMicRot surprised many in the progressive analytics community" [@kwcollins here and here]
-Logan Dobson (R): "But, of course, people dejected enough not to want to answer a pollsters question might also be dejected enough not to vote..." [@LoganDobson]
A TALE OF TWO COMMON CORE POLLS - Cory Turner: "Two new polls this week attempt to quantify the public's feelings for the Common Core State Standards. The K-12 benchmarks in English and math were little known this time last year. But they've since become the subject of a high-profile political fight. Now a majority of the public opposes them. Or do they? Poll No. 1, out today, puts support for the Core at just 33 percent. But Poll No. 2, released yesterday, puts it at 53 percent. That's a big difference...PDK/Gallup asked it this way: 'Do you favor or oppose having the teachers in your community use the Common Core State Standards to guide what they teach?' The result: 60 percent of respondents said they oppose, which isn't all that surprising since the question hits on what we know, from the poll, is opponents' greatest fear: that the Core will somehow limit teachers. Here's how Education Next phrased that question: 'As you may know, in the last few years states have been deciding whether or not to use the Common Core, which are standards for reading and math that are the same across the states. In the states that have these standards, they will be used to hold public schools accountable for their performance. Do you support or oppose the use of the Common Core standards in your state?' See the differences? It's longer, for sure, with more context. 'States have been deciding whether or not to use the Common Core' sends a subtle but clear message: no federal takeover here. Also, take a second look at this line: 'In the states that have these standards, they will be used to hold public schools accountable for their performance.' That idea — accountability — polls really well with Americans." [NPR, Gallup, Education Next]
HUFFPOLLSTER VIA EMAIL! - You can receive this daily update every weekday via email! Just click here, enter your email address, and and click "sign up." That's all there is to it (and you can unsubscribe anytime).
WEDNESDAY'S 'OUTLIERS' - Links to the best of news at the intersection of polling, politics and political data:
-The first poll of the Montana senate race with replacement Democrat Amanda Curtis finds her lagging by 20 points. [Rasmussen]
-New York voters see Andrew Cuomo as tied to corruption, but they're still going to vote for him. [Quinnipiac]
-University of New Hampshire finds very close races in New Hampshire's 1st and 2nd Congressional Districts. [UNH]
-A new survey finds Gina Raimondo leading Rhode Island's Democratic primary for governor. [WPRI]
-A GOP poll finds little support for President Obama taking unilateral action on immigration. [Weekly Standard]
-Harry Enten runs through the six races likely to determine control of the Senate this November. [538].
-Better polls for Republicans in Georgia have improved their Senate odds in the Upshot model. [NYT]
-Nate Cohn says Alaska may be "more favorable to Democrats than its unshakably Republican record suggests." [NYT]
-Bill McInturff (R) measures America's "political barometer." [POS]
-Satisfaction with job security is at a new high among employed Americans. [Gallup]
-Every Wyoming senator has been renominated since the state's first primary in 1916. [Smart Politics]
-Paul Hitlin and Nancy Vogt track the rise of media and online attention to the protests in Ferguson. [Pew]
-"Study Finds 79% Of Statistics Now Sobering" [The Onion]