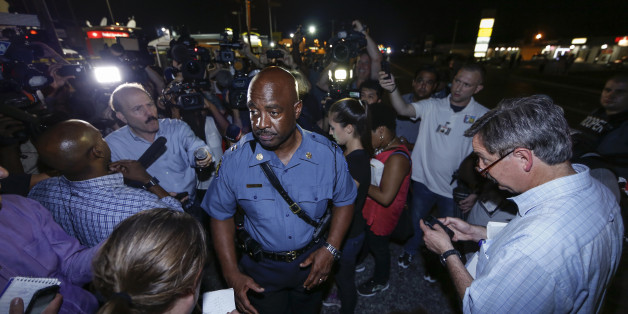 A CNN iReport from a user falsely claiming that Missouri Highway Patrol Captain Ron Johnson was affiliated with a gang has been deleted from the network's site.
An article posted on iReport, the CNN page that allows people around the world to share photos and submit their own stories, stated that Capt. Johnson was seen in a photograph holding up a hand symbol associated with the Bloods. Johnson was recently placed in charge of security procedures in Ferguson, Missouri, where the violent protests over the killing of Michael Brown are currently taking place.
The photograph soon made its rounds on Twitter:
Captain Ron Johnson throws up "gang signs?" Really @CNN? You're just gonna leave that up? http://t.co/DSLFprbHv1 pic.twitter.com/jAUN8qIIgH

— DJ Digital (@callmeDjDigital) August 19, 2014
The Washington Post put those rumors to rest Wednesday when it confirmed that the symbol was actually just a greeting from Johnson's fraternity, Kappa Alpha Psi.
Anyone can submit an iReport, a platform for citizen journalism, and CNN deleted the submission in question once it realized the information was not true. The network issued the following statement, explaining, "iReport is a social network for news. A small number of user submissions are approved for use on air and online. The iReport in question had not been vetted, was labeled as "NOT VERIFIED BY CNN," and was removed shortly after being flagged by the community."
Others on Twitter caught the blunder before the erroneous article was taken down:
When did Kappa Alpha Psi become a gang? RT @DixielandDiva BLACK Capt. Ron Johnson and his gang signs needs to resign http://t.co/jdBeUbyVY6

— Yukio Strachan (@boldandworthy) August 19, 2014
Google coulda prevented your ignorance RT @DixielandDiva: BLACK Capt. Ron Johnson and his gang signs needs to resign http://t.co/h8yJoELUpt

— Yori (@AnAmazingFeat) August 19, 2014
(h/t: The Raw Story)