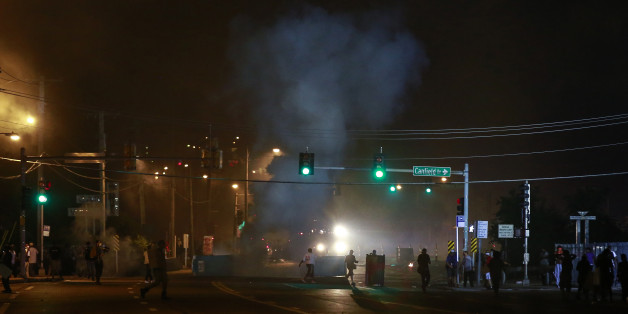 The Intercept's Ryan Devereaux wrote a chilling account on Tuesday of what happened to him in Ferguson, Missouri, while covering the protests surrounding the shooting of unarmed teenager Michael Brown.
Police arrested Devereaux after midnight on Tuesday and he stayed overnight in St. Louis County Jail. He said he was taken into custody for "refusal to disperse."
In his post for The Intercept, Devereaux described the scene in Ferguson -- roads "filling with smoke" and "armored vehicles ... occasionally shooting tear gas" -- and said he was hit one time with what he thinks was a rubber bullet.
"The shooting left a mean bruise, but all the guns trained on us provided an ample distraction from the sting," he wrote. "We were frightened."
He said the people he met in prison have very strong convictions about what's happening in Ferguson.
"Not a single one of these men, through our hours of conversations, expressed any desire to let up," he wrote. "This will not end soon."
As tensions continue to build between protesters and authorities in Ferguson, police have arrested a slew of journalists, including The Huffington Post's Ryan J. Reilly and the Washington Post's Wesley Lowery. Two German journalists and Getty photographer Scott Olson were arrested on Monday night.
Read Devereaux's full account here.