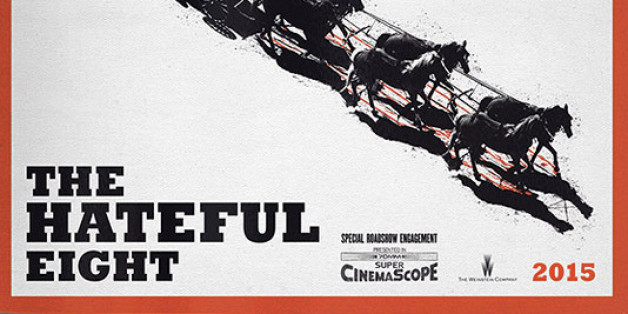 UPDATE: The official teaser that premiered in theaters last year and leaked online in August has now been released. Check it out below.
EARLIER: Last week, it was revealed that The Weinstein Company would debut a theater-only trailer for Quentin Tarantino's "The Hateful Eight" with prints of "Sin City: A Dame To Kill For" on Aug. 22 and not release the clip online. As it turns out, the studio didn't have to: A YouTube user named tone farg uploaded the "Hateful Eight" trailer on Wednesday. As of Thursday afternoon, YouTube had not pulled down the clip, despite the fact that pirated material is often briskly scrubbed from the site.
Since Tarantino's film hasn't started production yet, the trailer includes only title cards of the character's names, music (Iggy and The Stooges' "Gimme Danger" gets prominent placement) and graphics of snow and blood. Tarantino's eighth feature film as a director -- not counting his segments in "Four Rooms" and "Grindhouse," nor his debut, "My Best Friend's Birthday" -- almost never was: The film's script leaked earlier this year, and Tarantino famously said he was going to shelve the movie in the wake of the unauthorized revelation.
"I'm done. I'll move on to the next thing," Tarantino told Deadline.com at the time. "I've got 10 more where that came from."
He might, but "The Hateful Eight" was soon resurrected. In April, Tarantino hosted a live read of the script in Los Angeles. Samuel L. Jackson, Kurt Russell, Tim Roth, Bruce Dern, Michael Madsen, Amber Tamblyn, Walton Goggins, James Remar, Zoe Bell and James Parks were among the actors who participated in that event, and it's likely some will factor into the finished film.
"The Hateful Eight" is out in theaters in 2015.
BEFORE YOU GO
PHOTO GALLERY
Celebrity News & Photos