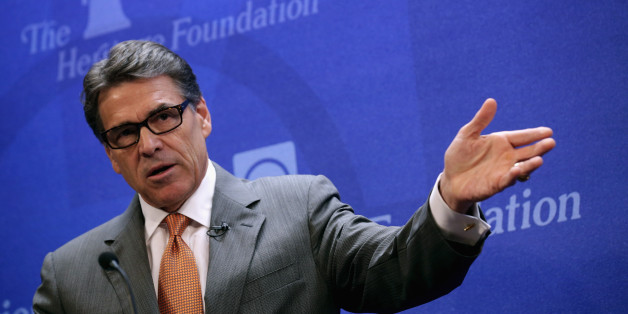 WASHINGTON -- Texas Gov. Rick Perry (R) warned Thursday of the potential for Islamic State militants to carry out imminent terrorist attacks on the U.S. unless immediate and forceful action is taken against them -- including, potentially, sending combat troops back to Iraq.
During a speech at the conservative Heritage Foundation, Perry criticized President Barack Obama for his handling of the situation in Iraq, particularly after militants released a video on Tuesday of an IS member beheading American journalist James Foley.
Perry said the U.S. must do more to eliminate the group, formerly known as ISIS, including using more air power, intelligence, special operations and advisory support. When asked by a reporter whether that meant he was open to sending combat troops back to Iraq, he said it would be wrong to rule out such an action.
"All of your options have to be open from the standpoint of dealing with this terror and this force in that country," he said. "I think signaling to your enemy what you are not going to put on the table is very, very bad -- both strategical and tactical errors by this administration. We need to have all of our options open."
Perry ran for president in 2012 and may do so again in 2016, and seemed to be presenting himself as a forward-thinking leader focused on security rather than squabbling (his own hits on Obama aside). He said this is not the time to discuss whether it was wrong to invade Iraq in the first place, or to argue, as some Republicans have, that the U.S. was wrong to withdraw troops.
"For many Americans, of course, just about the last thing we want to think about is more conflict in Iraq and what that might involve, but we better get on top of this crisis by every means necessary, because events are moving fast and the price is only going to go up from here," Perry said. "We have come to one of those moments when American action will be decisive and inaction will be consequential."
Obama said Wednesday that the U.S. would continue to "do whatever is necessary" to support Iraqi forces that are attempting to combat the Islamic State militants. American forces conducted nearly a dozen airstrikes in Iraq between Tuesday and Wednesday, according to officials.
"We will be vigilant and we will be relentless," Obama said in remarks from the White House after Foley's death.
Obama reiterated that he will not re-engage U.S. combat troops in Iraq, despite suggestions from lawmakers in both parties that the option should at least be considered. The administration has said it is weighing whether or not to deploy an additional 300 U.S. troops to assist in training the Iraqi military.
Perry tied events to Iraq to border security in the U.S., which was billed as the main topic of his speech. Texas has been the front lines of a crisis of tens of thousands of unaccompanied minors crossing the border illegally, and Perry has been critical of Obama's response. He said any immigration reform should be put on hold until there is border security.
"How about we start with comprehensive border enforcement?" he said.
He tied the issue to terrorist threats multiple times by warning militants could enter the country illegally.
"What other bad actors are coming here or, for that matter, have arrived already?" he asked.
Perry also briefly addressed his indictment for abuse of power, which he has dismissed as a political attack.
"I am very confident in my case," he said. "And I can assure you that I will fight this attack of our system of government, and with my fellow citizens, both Republicans and Democrats, I aim to defend our Constitution and stand up for the rule of law in the state of Texas."
Sabrina Siddiqui contributed reporting.