Jenna Daugherty has a happily-ever-after story that went slightly off course -- but that's exactly why it's so great.
Last Saturday, the Ohio resident did something most divorcés would never dream of doing: she remarried her ex-husband five years after their divorce.
A few days later, she shared the pics on Reddit. Here's Jenna with her ex-husband-turned-husband Brian that night:
After high school, Jenna gave birth to the couple's son Jacob. Their parents were supportive, but there "was always unspoken pressure to 'do the right thing'" and marry, Jenna told HuffPost via email. So they tied the knot in 2005.
Here's Brian and Jenna at their first wedding: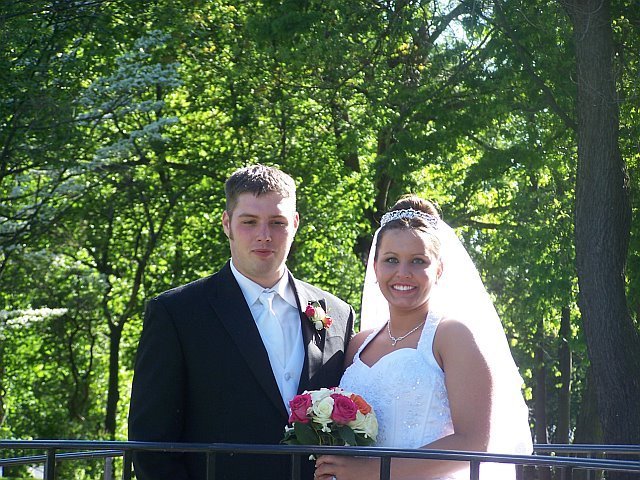 Jenna, now 28, said the pair was happy then, but were "so wrapped up in getting done with school and getting through each day that [they] lost sight of the relationship."
They divorced in 2009, but stayed close for the sake of their son. When Jenna got sick shortly after getting her graduate degree in teaching, Brian was right there by her side. Years after the divorce, the couple's rekindled their love.
"Ultimately, Brian would say that we grew up but I think we both realized what we had in one another and how deep our love was," Jenna said.
Earlier this month, the pair decided to give marriage another try. A week before the wedding, Jenna sent a Facebook invite to friends and family, asking them to come by Saturday for a BBQ. Not mentioned on the invite? The secret wedding the couple had in store for the 30 guests.
"At around 8:30 that night, Brian made an announcement and proposed in front of everyone," Jenna explained to us. "I thought it would be hard to fake being excited again but I really was thrilled."

After Jenna changed and grabbed the rings and marriage certificate, everyone gathered around the fire and the couple said their vows again.
"It was an incredibly easy and magical night," Jenna said. "No fuss, no frills."

The couple's 9-year-old son Jacob was the best man and ring bearer. He was clueless about the wedding before that night -- but "incredibly happy and proud" when he found out, Jenna told us. (What kid wouldn't be?)
Here's Jacob doing his best photobomb.

A few days after the big night, Jenna said the family couldn't be happier. "After five years being apart, it feels like going home again. It's never too late!"

Keep in touch! Check out HuffPost Divorce on Facebook and Twitter. Sign up for our newsletter here.
BEFORE YOU GO
PHOTO GALLERY
The Best Things Ever Said About Love