Our hats are off to Amy Purdy for proudly showing off her prosthetics on the red carpet.
The 2014 Team USA Paralympic bronze medalist proudly paired a minidress with her prosthetic legs Thursday night at the OK! TV Awards Party in Los Angeles, an inspiring choice her fans can't stop calling "beautiful" on social media.
(Story continues below.)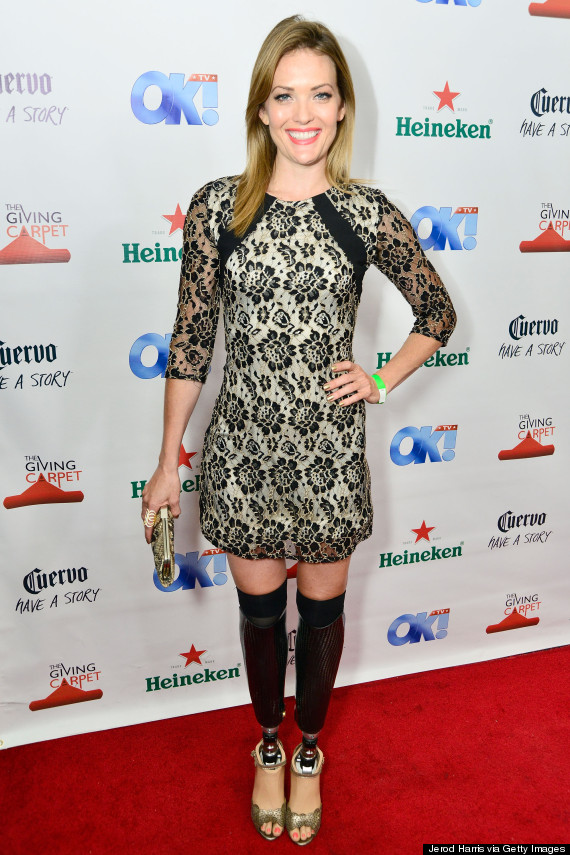 Purdy, a 34-year-old pro snowboarder who also appeared on season 18 of "Dancing With the Stars," lost both of her legs at the age of 19 following a battle with bacterial meningitis.
Doctors gave Purdy a "less than 2 percent chance" of surviving the infection, which put her in a coma for nearly three weeks and also took her spleen, the hearing in her left ear and her kidneys. She ultimately persevered and returned to snowboarding, but only after building her own prosthetics, because snowboarding-specific ones didn't exist at the time.
Purdy returned to the hospital again a week before her 21st birthday for an organ transplant -- a kidney donated by her father. As before, she recovered and returned to physical activity, co-founding Adaptive Action Sports, a group dedicated to helping individuals with physical disabilities participate in action sports.
Speaking of her appearance on "Dancing With the Stars," Purdy told ABC she's proud to have helped knock down barriers.
"To be able to walk down the street and have people stop you, not just because they recognize you, but because you somehow personally touched them, it's amazing," she said. "In the past, if you saw a girl with prosthetic legs walking down the street, you can imagine people would kind of look and not know what to say, or maybe they are fascinated, or maybe they feel bad for you."
"But now when I walk down the street wearing a skirt, those lines have been blurred, barriers have been knocked down," Purdy continued. "They look at me for what I'm capable of instead of going, 'That girl has prosthetic legs.'"
BEFORE YOU GO
PHOTO GALLERY
11 Inspiring Olympians