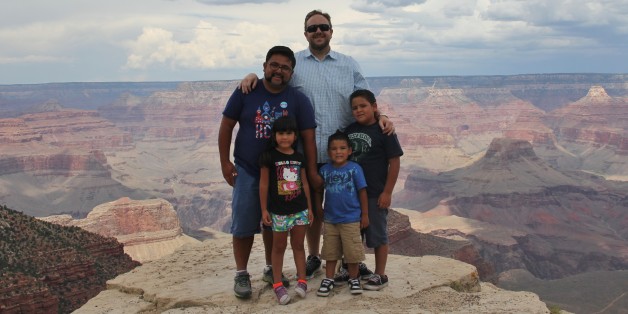 This week's Huffington Post Gay Voices RaiseAChild.US Let Love Define Family™" installment highlights the joys of Adoption Day for Scott Sparks, a human resources manager in Long Beach, CA, and his husband, Wilber Rubio, a behavior therapist who works with mainstreamed autistic children. Along the way to creating their perfect family, Scott and Wilber had to contend with Wilber's born-again Christian family and some homophobic comments in the foster parent training, but all of it worked out in the end.
It was a moment of merriment in Judge Tim R. Saito's long day at Children's Court in Los Angeles last month. After Scott A. Sparks, 42, and his husband Wilber Rubio, 31, filed into the courtroom with their bubbly brood of three, the family members just kept rolling in and filling every corner. As 25 joyous family members took their seats, the mood was catching and the judge couldn't help but laugh along with them.
It was Adoption Day for Giovanni, 9, and his biological sister and brother, Genesis, 7, and Angel, 5. The excited children had dressed up for the occasion, and Genesis insisted on wearing her tiara. When the judge made the final decree of adoption, the eldest child cried happy tears and wrapped Wilber in a big hug.
After more hugs and kisses, the family enjoyed a lunchtime celebration with friends and extended family next door at Luminaria's, a Mexican restaurant in Monterey Park. When the restaurant staff learned about the special day, they brought out dessert for the kids with candles and sang "Happy Adoption to You!" The kids basked in the loving attention and enjoyed opening many gifts.
Looking back over the preceding year, Scott said, the journey seems "seamless."
"It seems like our family always has been a family," explained Scott. "It's funny to think it's been only a little over a year since we met the kids. It just feels so natural now. Our days are filled with school and soccer practice and all that stuff, and we're loving every minute of it."
The couple met in 2008 and planned to adopt soon after they were married in New York in 2011, but then Scott's work transferred him to California. Once settled, they began the foster process with the Los Angeles County Department of Children and Family Services (DCFS).
"We always knew we wanted to adopt," said Wilber. "That was a topic early on when we started to date. Living in a new home, in a new state and starting a new job, we put adoption on the back-burner until we could settle in. One evening when we were watching T.V., we saw a commercial for Wednesday's Child and the fire to build our family was reignited. It was time to start pursuing our dream of building a family of our own. We made a call to DCFS and got enrolled in an orientation session."
While Scott and Wilber were participating in the DCFS classes, Ivonne Crescioni, a social worker who was one of the trainers, introduced the couple to CEO and founder of RaiseAChild.US Rich Valenza and Jason Cook. As RaiseAChild.US's Parent Advocate, Jason provides information and support to prospective parents navigating the many steps involved in becoming foster-adoptive parents.
"Jason was such a great help in guiding us along the process," said Scott. "He told us how to work through the county and state system, who to call and how hard to push. Jason's guidance helped us speed through the process... and he was always there in the background coaxing us along!"
With busy careers, Scott and Wilber were looking for kids "a little bit older." The couple, as they put it, "got the whole package" when they were matched with a sibling set of three at a DCFS bowling alley recruitment event in July 2013. From one day to the next, they went from a quiet household of two to a bustling family of five.
Since then, Scott and Wilber have become advocates for foster-adoption. Reaching out to the LGBT community in particular, they spoke on a parent panel at a RaiseAChild.US event for prospective parents at the W Hollywood in October 2013 and a RaiseAChild.US fundraiser at Mauro Café Fred Segal in November. The audience was clearly touched by their warmth and candor; several participants talked about how much the panel meant to them, particularly the chance to hear from "real, live" parents who had been where they themselves dreamed of going.
Scott reports that DCFS was completely supportive of the family. However, during a discussion of religion and sexuality in the training class, "Several people said straight out, 'I couldn't accept a child like that in my home' and it struck a nerve." Scott explained, "I thought, 'How could you not let a human being be whoever they are?' I was worried that we, as gay dads, might not be welcome."
A trainer immediately jumped in, saying, "If you're going to foster a child, you can't pick and choose that kind of thing," recalls Scott. "They made it very clear that if that's the intention, they should re-evaluate their interest in becoming a foster parent. It was reassuring to hear that so clearly from DCFS. After that, we felt welcome there."
The initial homophobia of Wilber's conservative, born-again Christian family was an obstacle. Over the years, the family had come to accept their son's sexual orientation and marriage but when the possibility of raising children arose, the family was very hesitant. However, since the children were placed with Wilber and Scott, love won out. Today, Wilber's family is very supportive and welcoming. This month the Rubio-Sparks family visited Wilber's family in Long Island, NY, and the children had so much fun they did not want to leave.
Scott's family has been very supportive throughout the process. "Granny and Papi have been there through it all and have built an enormous bond with their 'first grandbabies,' as they call them," said Scott.

"For us, the best thing about being a parent is the ability to share our interests and passions with our children," said Scott. "We love seeing the world through their eyes, seeing all the curiosity, the good and the innocence in everyday events. Being there to help mold them and push their boundaries is an amazing responsibility and honor."

The couple proudly describes each of their children.
"Giovanni is a mature 9 year old. He loves anything that has to do with sports. Since he moved in with us he has played baseball, basketball, soccer and will start football very soon. On the surface he may seem a bit tough or serious, but on the inside he is a sweet, loving and passionate little boy who loves to hug us and hold our hands when we walk. We are proud of his dedication to trying new things and never giving up!"

"Genesis is our 7-year-old diva/princess! Geni is enamored with anything pink or with bling. She adores Hello Kitty and fashion! She is all about dressing up and has no issues telling us when something is not to her style or liking. She likes animals, reading and school. Geni's love of fun is contagious and she makes new friends wherever she goes. We are proud of Geni's selfless attitude and her drive to help out her friends and family whenever she has the chance."

"Angel, our 5 year old, has serious plans to be a superhero in the near future. Which one? Well, he has not made up his mind yet. Angel has a fantastic imagination that takes us many places. Angel is quite the artist -- he loves to draw, paint and color. We are proud of Angel's eagerness to learn and to see the good in people. We know he will save the world from all the bad guys one day. Angel has made us very proud academically. He asks to work with us almost every day on math and reading skills and can read at an amazing level. He constantly reads while we drive along, making sure we know every street and store around us."
In September, the precocious learner will finally be able to join his brother and sister at their school in Long Beach. As they enjoy watching each of their children reach another milestone, Scott and Wilber encourage other prospective parents to learn more about foster-adoption and follow their hearts.
"Don't wait!" said Scott. "The only thing that we regret is that we didn't do it sooner. On the other hand, the cosmos had a plan for us -- our lives collided with this sibling set of three. We never saw it coming and now cannot imagine life apart from them."

"The hoops you will need to jump through and all the steps and dedication might seem a bit much and exhausting when you are going through it," said Wilber, "but it pays off ten-fold in the end."

Corinne Lightweaver is the Communications Manager at RaiseAChild.US, a national organization headquartered in Hollywood, California that encourages the LGBT community to build families through fostering and adopting to serve the needs of the 400,000 children in the U.S. foster care system. Since 2011, RaiseAChild.US has run media campaigns and events to educate prospective parents and the public, and has engaged more than 2,200 prospective parents. For information about how you can become a foster or fost/adopt parent, visit www.RaiseAChild.US and click on "Next Step to Parenthood."
UPDATE: An original version of this story stated that the couple met in 2009, not 2008. This has been corrected.
BEFORE YOU GO
PHOTO GALLERY
Scott & Wilber's Story