The last eight years of Fatcat the bulldog's life have been hard. In 2006, she was reportedly snatched from outside her owner's home and since then, she's lived a life of neglect and abuse, apparently at the hands of people who had used her as a "breeding machine."
But Fatcat's story recently took a wonderful, fortuitous turn -- and today, against all the odds, she's on the road to recovery and back home with her beloved owner of so long ago.
LaShena Harris says she still remembers the day she lost Fatcat. She told Today.com that she had left the pooch outside her house in Memphis for just a few minutes as she ran in to get the dog's new collar. When she emerged, however, Harris says she saw a "truck speeding off down the street" and her dog was nowhere to be found.
"I knew whoever had her would probably breed her, and I would never see her again," Harris said.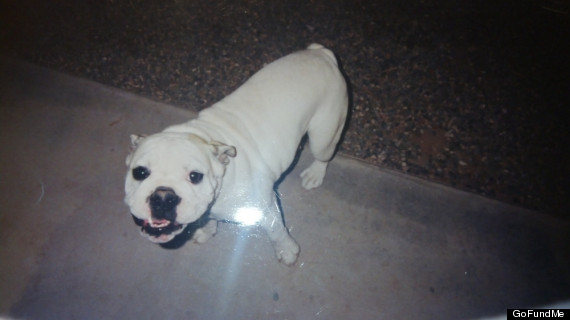 This, said Harris on her GoFundMe page, is one of the last photos she took of Fatcat before she was stolen.
Months passed, then years; and in that time, Harris moved from Tennessee to Arizona, and at some point along the way, she resigned herself to never seeing Fatcat again.
That is, until a few weeks ago, when Harris got unexpected news: Her long-lost Fatcat, she learned, had been brought in to an animal shelter in Memphis.
"The lady's like, 'I think I have your dog,'" Harris told Today.com of speaking to staff at the West Memphis Animal Shelter, who had found her thanks to Fatcat's microchip. "I burst into tears at my desk."
But despite the amazing news, all was not well. Fatcat, it turned out, was very sick. Years of neglect, abuse and over-breeding had ravaged her body. She was suffering from heartworm and major dental issues, as well as a slew of other medical problems, writes the Arizona Republic.
Considering Fatcat's condition and that Harris was finding difficulty getting the dog to Arizona, shelter staff floated euthanasia as an option. Harris said she was heartbroken and agonized over the decision. She wanted, after all, to see her furry friend again after all these years.
But in the end, she didn't have to make that hard decision at all.
According to the Arizona Republic, a friend of the shelter's director offered to drive Fatcat to Harris.
The pair was reunited earlier this month.
Story of woman reunited with sick dog after 8 years inspires flood of donations: http://t.co/TPX1AuXDu3 pic.twitter.com/dghkPSuzdP

— azcentral (@azcentral) August 19, 2014
"I feel like the luckiest person in the world right now. I'm just glad she's finally home," Harris wrote on the GoFundMe page that she's set up to help with Fatcat's medical bills.
So far, more than $7,000 has been raised and Harris says she's been overwhelmed by the support she's received from strangers around the world.
#Arizona woman's reunion with sick dog inspires flood of donations to help with vet bills http://t.co/506MDpT9cr pic.twitter.com/b9lV1VWuBm

— azcentral (@azcentral) August 21, 2014
"It's been crazy, insane," Harris told Today.com. "I'm so appreciative of it. These people don't know me, they only know my story, and they still felt compelled to help me."
BEFORE YOU GO
PHOTO GALLERY
People Receive The Best News Ever