Forget the fries; you can now get a free smartphone with that Whopper.
Burger King kicked off a new promotion Monday, offering customers free Android smartphones with a two-year contract or upgrade with AT&T, Sprint or Verizon.
The phones can be snagged via the Burger King website with the promo code "FREEPHONE." Customers have a choice of more than 30 devices, including the Samsung Galaxy S4, the LG Optimus G Pro and the HTC One M7.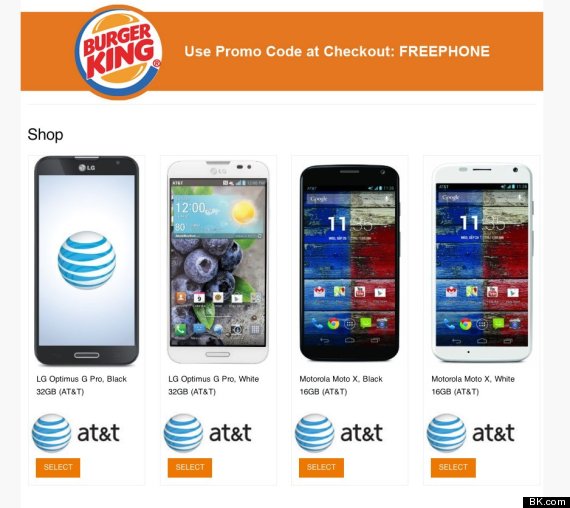 Samuel Heath, director of revenue management and pricing for Burger King, told Mashable that these phones would otherwise cost between $50 and $150 with a two-year contract.
"We wanted to make sure we took care of all the people who come to Burger King," Heath told the news outlet of the motivation behind the promotion. "You forget sometimes that only half the people have smartphones."
He added that the company has an ample number of Android devices in stock -- enough, he says, to keep up with the promotion for several weeks.
The timing of Burger King's new promotion will likely raise a few eyebrows, as its launch neatly coincided with news this week that the company is in talks to buy Canada's Tim Hortons in an alleged effort to avoid U.S. taxes. However, Burger King told The Huffington Post the timing of the free smartphone promotion was "unrelated" to news of the possible Tim Hortons deal.
The jury is still very much out, however, as to whether or not the promotion will sufficiently distract U.S. customers from news of this possible move north.
Already, criticism of Burger King has flooded social media, with some netizens calling for a boycott of the fast food chain. "Definitely will not step foot in a BK ever again," wrote one Facebook user Monday. "They can't pay their share then they don't need my $$$."
According to the Burger King website, the new smartphone promotion was launched to "celebrate the release of the new Burger King App for Android." But while customers who get a new smartphone will be encouraged to download the app, it won't be a requirement.
This post has been updated to include a comment from Burger King.
BEFORE YOU GO
PHOTO GALLERY
10 Things The Fast Food Industry Doesn't Want You To Know