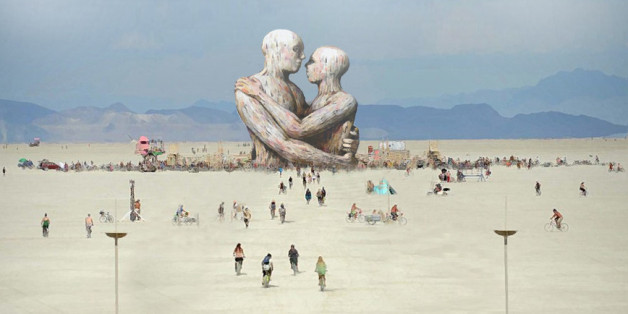 The vindictive weather gods have seemingly chosen to smite the hippies presently headed for the Nevada desert. Yes, Burning Man has closed for two days due to heavy rain, stranding festival-goers in and around Black Rock City.
BRC is closed until midday Tuesday due to rain and standing water. At the request of organizers, law enforcement is turning cars back.

— Burning Man (@burningman) August 25, 2014
Prior to the storms, traffic was delaying the onslaught of artists, campers, techies, magic mushroom-enthusiasts and blossoming pyrotechnicians hoping to spend a few days off the grid. Now, the roads are all but "undriveable," reports Burning Man's Facebook page.
Some burners had already made their way inside the Burning Man gates, as today was supposed to be the start of the week-long event. Officials have advised those people to remain in their camps while standing water and mud continues to accumulate.
BM organizers expect the rain to die down and the playa sands to dry out by the middle of Tuesday, when participants will be allowed to enter the event again. Until then, there's talk of orgies at Pyramid Lake, according to the Reno Gazette-Journal at least.
As many Twitter users have pointed out, parts of California are experiencing dire drought conditions. Meanwhile, Black Rock City's usually arid locale in neighboring Nevada is flooding. As we wait for more updates, here's how the Internet is responding to the festival's temporary cancellation:
Burning Man canceled due to living in mom's basement.

— The Fake CNN (@TheFakeCNN) August 25, 2014
Burning man.... not burning. http://t.co/DlfciYCsJh

— Andrew Austin (@transitdude) August 25, 2014
So I guess Burning Man is more like Wet Blanket Man this year?

— loydcase (@loydcase) August 25, 2014
it would be very chill if the Burners had to stay in Reno all week and pump all that tech money into the Reno economy instead of Burning Man

— Molly Lambert (@mollylambert) August 25, 2014
attention burning man: please have a giant rain dance so we can get out of this drought.

— Selena Larson (@selenalarson) August 25, 2014
So glad to not be in Reno during Burning Man this year. Won't miss the campers parked in front of my house. #1000reasons

— hippler (@hippler) August 25, 2014
The gate to Burning Man is closed due to weather. Too bad we couldn't have waited to close it up once all those dirty hippies were inside.

— Stephanie Gutierrez (@stephaniesits) August 25, 2014
California is in a massive drought then it pours rain at @burningman - touche world, touche.

— Kyle (@SpicyTunaTroll) August 25, 2014
I would think the ideal situation at Burning Man is a lot of rain. Wash off those dirty hippies.

— Adam (@zombiologist) August 25, 2014
Crazy. California faces worst recorded drought and Burning Man is flooded.

— subtopes (@subtopes) August 25, 2014
any interest in a kickstarted to extend burning man through september? i'm enjoying the emptiness of sf.

— michael s (@WordsFromWalrus) August 25, 2014
UPDATE: It's back on.
Game on! It's a beautiful day in Black Rock City! See for yourself on the live webcast. http://t.co/r7e1oWaFMn

— Burning Man (@burningman) August 26, 2014
BEFORE YOU GO
PHOTO GALLERY
Burning Man 2013