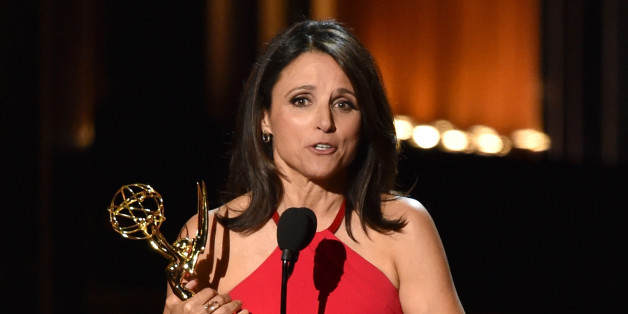 The Emmy award for Outstanding Lead Actress in a Comedy Series goes to Julia Louis-Dreyfus for her role in "Veep."
Dreyfus defeated Lena Dunham, Edie Falco, Melissa McCarthy, Amy Poehler, Taylor Schilling for the win. This is her fifth Emmy win overall and third for "Veep."
Before taking the stage, Julia Louis-Dreyfus made out with Bryan Cranston. Earlier in the broadcast, Cranston and Dreyfus joked about the actor's guest appearance on "Seinfeld," where he kissed Dreyfus' character, Elaine. (Dreyfus said she didn't remember their kiss.)
Louis-Dreyfus never ceases to surprise us with her entertaining and hilarious Emmy acceptances speeches. Last year the "Veep" actress was accompanied on stage with her "Veep" co-star (who had also just won an Emmy) Tony Hale. The year before, she did a funny bit with Amy Poehler where the two mixed up their speeches.
Twitter then continued to freak out over her win:
If aliens ever invade, @BryanCranston and @OfficialJLD will be offered up as our finest examples of humanity #EmmysObserved

— New York Observer (@NewYorkObserver) August 26, 2014
Even if Cranston loses tonight, I think we can agree he's already won. http://t.co/qPDPgi9Ex9 http://t.co/1NM0yDbc3I

— 7oanna Robinson (@jowrotethis) August 26, 2014
.@BryanCranston's strategy for proving to @OfficialJLD that he really was on #Seinfeld: Make out with her when she goes to accept her #Emmy

— Television Academy (@TelevisionAcad) August 26, 2014
Way to go, @OfficialJLD! Outstanding Lead Actress in a Comedy Series. Such a great category. I'm so proud that a woman won. #Emmys

— Ellen DeGeneres (@TheEllenShow) August 26, 2014
BEFORE YOU GO
PHOTO GALLERY
2014 Emmy Award Nominees