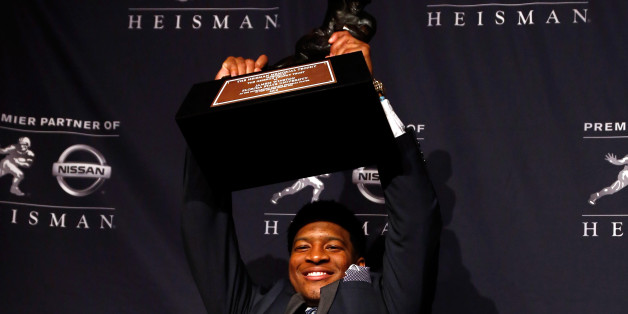 The annual Heisman Trophy fodder is as much a part of college football as the weekly rankings and games themselves. And, as we recently explored, there are five elite candidates to knock Florida State University's reigning Heisman champ Jameis Winston off his perch. But Winston is chasing history, hoping to become the second-ever two-time winner since the award's inception in 1935. (Ohio State's Archie Griffin did so almost 40 years ago.) And by now you know that Winston is not your average sophomore, with his 44 combined touchdowns plus a national championship.
With that in mind, here are five reasons the Alabama native could repeat as Heisman Trophy winner.
Scratching The Surface
His remarkable on-field command can mask the fact that Winston is still just 20 years old, but another year in Jimbo Fisher's system is a scary thought. Winston completed a stellar 67 percent of his passes as a redshirt freshman, but did so with choppy footwork and, at times, a long, wind-up delivery. These elements of his game should improve as he prepares for the next level.
A Little Help From His Friends
Don't forget that Fisher has signed a top-10 class every year since he got the job in 2010. The Seminoles are returning 13 starters in 2014, including John Mackey award finalist (given to the nation's best tight end) Nick O'Leary. As a junior last season, O'Leary nabbed 33 passes for 557 yards and seven touchdowns, and perhaps more importantly, already has the most career touchdowns for a tight end at Florida State, with 11. The loss of 1,000-yard receiver Kelvin Benjamin and running back Devonta Freeman to the NFL Draft surely hurts, but between O'Leary's versatility and the emergence of multifaceted weapons Karlos Williams and Rashad Greene, Winston will have plenty of weapons.
Cupcake City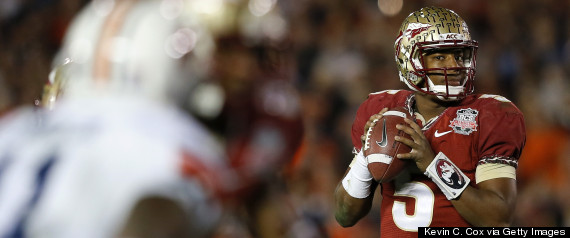 The ACC is not a very good league right now, and the fact that FSU gets Notre Dame at home is a huge plus. Both the Clemson and Florida games are in Tallahassee as well, which means that another undefeated regular season is very much on the table. Winston should be able to produce the gaudy numbers and the wins that come along with being a Heisman winner, a la 2014.
Pressure Player
Winston, per ESPN The Magazine, ranked first overall in completion percentage under duress, nearly doubling the average rating for quarterbacks. It appears no stage is too big for him, and the national title game against Auburn is a prime example. The game-winning drive he orchestrated looked more like the work of a seasoned pro than a redshirt freshman.
Confidence
Call him brash or arrogant, it really doesn't matter. "I've got this perception about me that Jameis is cocky, overconfident," he told ESPN The Magazine. "If you hold yourself to a certain standard, people are going to talk. But that's you being yourself." Did you catch the third-person reference? The funny thing is that before he was a household name, the nation's No. 1 overall quarterback recruit in 2012 possessed the same belief in himself. In that regard, Winston isn't entirely dissimilar to former Heisman winner Johnny Manziel. Both are great, and they will tell you they are great. Hate it or love it, there is a certain beauty to that.
Email me at jordan.schultz@huffingtonpost.com or ask me questions about anything sports-related at @Schultz_Report and follow me on Instagram @Schultz_Report. Also, be sure to catch my NBC Sports Radio show, "Kup and Schultz," which airs Sunday mornings, 9-12 ET, right here.