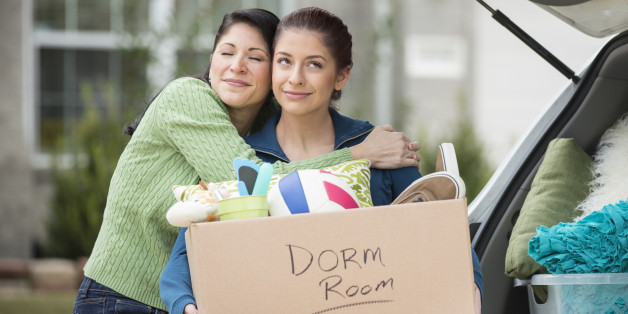 You've probably been back-to-school shopping for years by now, so you know the drill –- new pencils, backpack, notebooks, the works. But here's a hint: school-supply shopping for college is a bit different than it was for high school. You may not find a need for a pencil case or an accordion folder, but instead, you'll find yourself in a pickle when you're missing a flash drive or laptop case, not to mention all those dorm decorations you didn't need until now!
There are numerous things you'll need to gather up before it's time to head to college, and, luckily for you, we've got your guide! Here are seven supplies collegiettes recommend bringing to college that you may have never needed for high school.
1. An external hard drive/flash drive
Getting your hands on a personal computer for college is one thing, but getting all the accessories and add-ons is a whole other process. Tori Kay, a sophomore TV/radio production major at Ithaca College, couldn't live without an external hard drive. While you may have gotten by in high school with just your laptop's memory, your classes may have you working on (and saving) numerous assignments on your computer. This is especially true if you have a major with projects that take up a lot of digital memory (like graphic design, film or computer science); You're going to want to think about investing in more space –- namely, an external hard drive.
Even if your work won't take up much room on your computer, definitely think about getting a small flash drive. You may have to get a PowerPoint presentation from point A to point B (i.e., your laptop to the classroom's desktop computer), and a flash drive will certainly come in handy then! Depending on your major, classes and workload, you'll need a certain size. Check out Amazon for some great options, from small flash drives to external hard drives with loads of space for your upcoming projects!
2. Basic craft supplies
In some ways, college can be a little like elementary school. No, you probably won't be fighting over crayons, and yes, you should be able to spell by now, but there are plenty of opportunities for crafting!
Iris Goldsztajn, a junior at the University of California, Los Angeles, says craft supplies were the number one thing on her collegiette shopping list. "I love crafting, and living in a dorm wasn't about to stop me," she says. "I brought things like ribbon, stickers, construction paper, washi tape, small paint tubes and brushes and more."
Try washi-taping your phone and computer chargers, creating a photo collage or making your own magnet board out of cookie sheets! Crafting can be a great way to bond with your roomie and spruce up your dorm room.
3. Home office supplies
Most pre-collegiettes who are headed off to college have no problem remembering the big things (minifridge, check; twin XL duvet, check; tons and tons of Easy Mac, check), but struggle when they end up in their rooms without the basic supplies that were always readily available at home. We don't always think about the items that we're used to sharing with our parents and siblings, such as office supplies, so make sure you add those to your list!
Katherine Varga, a junior at the University of Rochester, recommends bringing everyday office supplies like a stapler, rolls of tape and paper clips. "In high school, I took those things for granted," she says. "But when I moved out of my house, I needed to get my own to keep in my dorm!"
Think about stocking up on some simple supplies like scissors, Sharpies and printer paper to keep at your desk. You'll thank yourself later!
BEFORE YOU GO
PHOTO GALLERY
Colleges With The Most School Spirit